Nick Shivers Settles into
Boston College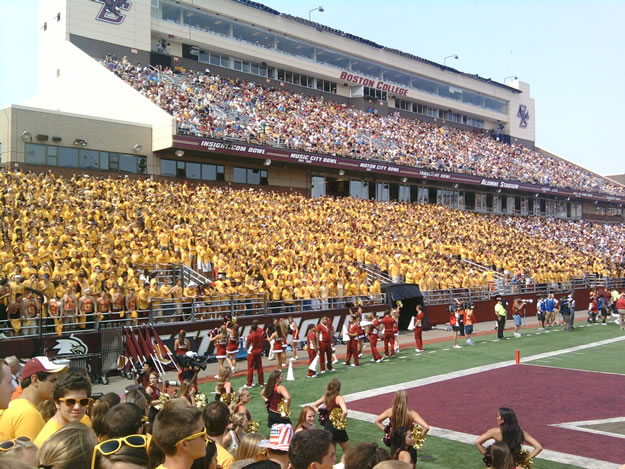 Like many members of Huntington High School's Class of 2011, Nick Shivers recently shipped out of town and is now tucked safely away on a college campus, as the next phase of his life comes into focus. He's only been at Boston College a short time but said he's already "having a blast."
Mr. Shivers applied to an extensive list of schools, not unlike most high school seniors, but he only put a check in the early action box for BC. "There were other bigger universities on my list," he said. "In hindsight, this is the only place I can see myself attending, and am somewhat glad I didn't get into certain schools because I probably wouldn't be where I am now."
It was during the summer prior to his senior year that Mr. Shivers first stepped foot on the Boston College campus for a generic tour. "I immediately fell in love with my surroundings," he said. "There was a torrential downpour, but that didn't encumber my feelings at all."
The Huntington alum is in BC's Carroll School of Management. He intends to concentrate his studies in the field of finance and is considering a minor in economics, a discipline Mr. Shivers said he "truly enjoys" and he finds "applicable to nearly every corporate position."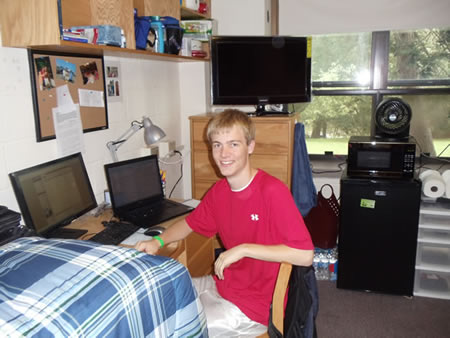 As a senior, Mr. Shivers enjoyed the AP Microeconomics course taught by James Graber. "It was one of my favorite senior year classes because of the logical and thought-provoking subject matter," Mr. Shivers said. He received a "5" on the AP exam for the course, which enabled him to get a pass from having to take the first college level economics course required by BC's Carroll School of Management.
"I am very interested into going into investment banking, working for a bulge-bracket firm such as Goldman Sachs, J.P. Morgan, Citi, BoA, etc. after college," Mr. Shivers said. "I feel BC and CSOM will give me a competitive advantage in the career-search process because of the well-rounded liberal arts education. The core curriculum here is extensive and will provide skills that are not particular to any specific profession, including proficiency in history, philosophy, theology, writing, fine arts, ethics and several other disciplines."
BC's extensive intramural program appeals to Mr. Shivers, who captained the Huntington golf team coached by Michael Marinello. Golf on a college team might be a no-go, but the Blue Devil alum is not through with the sport. "I do have my golf clubs under my bed [at Boston College], just in case the opportunity to play arises," Mr. Shivers said. He plans to participate in the intramural basketball program this winter.
"My experiences at Huntington High School have shaped who I am academically, today, Mr. Shivers said. "HHS truly provides a special environment for Huntington students. I encourage all current students to take advantage of the honors and AP classes available to them. Taking an easy class when you are capable of more is a big mistake. Colleges want to see that you challenged yourself in high school. If I did not take all of the AP and honors classes that I did, I know that I would not be at Boston College today."
A clear perspective of his high school experience is emerging for the new alum. "Although I have been extremely lucky to have great teachers in every single one of my classes over my four years at Huntington High School, the one teacher that I have had the most personal connection with is Michael Graziano," Mr. Shivers said. "I had him for ninth grade Math A/B accelerated [math A and math B have since been replaced with three one year courses: geometry, algebra, and trigonometry] and remained in contact with him for the duration of high school. He is someone who is easy to talk to about school or personal issues."
Most students have a "favorite" teacher and discover qualities in that person they might not find in others. It's what can make learning more interesting in a large school filled with a diversity of personalities and styles. There's a "special" teacher for everyone.
"As a teacher, Mr. Graziano can maintain a balance between fun and learning that no other teacher can match," Mr. Shivers said. "He truly makes it fun to be in his class, but more than adequately prepares his students for the Regents and for applying the material in higher math classes."
As a senior, Mr. Shivers especially enjoyed AP Calculus with teacher Joan Lehnert and AP Microeconomics with James Graber. "Calculus really appealed to me because of its mathematical preciseness and its extensive application in the professional financial world," Mr. Shivers said.
As the 2011/12 school year gets underway with a 300 new freshmen faces and a new senior class, life goes on for those left behind in Huntington as well as for members of the Class of 2011.
"I will always remember the people of Huntington High School," Mr. Shivers said. "My teachers have been great, but the rest of the staff made my experience what it was. For example, Mrs. [Camille] DeCanio and Mrs. [Marie] Mille in the library were always very helpful when I was there to research or study. Mrs. [Bernadette] Walsh and Mrs. [Linda] Abner in the college office made the application process so much easier by compiling transcripts and recommendation letters and mailing them to the colleges."
With Boston being a relatively short ride away from Long Island, it wouldn't be surprising at all to see Mr. Shivers visiting his alma mater from time to time during breaks from college studies. That would suit Huntington High School's teaching corps just fine.