Class of 2006 Member Patrick McCourt Passes Away
The Huntington community suffered a jolt Saturday when it learned that 22-year old Patrick McCourt, a member of Huntington High School's Class of 2006 was killed at 5:30 a.m. after being struck by two cars while walking on Veterans Memorial Highway in Holbrook.
News of Mr. McCourt's death saddened classmates, including John C. Lee, who is currently serving as an officer in the United States Marine Corps, after graduating from the U.S. Naval Academy last spring.
"We had most of our classes together and he played the sousaphone with me in marching band," Mr. Lee said about Mr. McCourt. "He was extremely intelligent and level-headed. I thought of him as one of those guys who had what I like to call a 'code,' a way of doing things, a strong set of morals, and he stuck to them. I think that's something you don't see too often these days, which makes his death all the more tragic. It was a bright and promising life cut short."
Visiting hours will be held at A.L. Jacobsen Funeral Home, located at 1380 New York Avenue in Huntington Station on Monday and Tuesday from 2-4 p.m. and 7-9 p.m. A Mass of Christian Burial will be offered at Our Lady Queen of Martyrs Church in Centerport on Wednesday at 10 a.m. Interment will follow at Our Lady Queen of Martyrs Cemetery.
During his years at Huntington High School, Mr. McCourt was very well-liked and developed close friendships with a core group of friends, along with many others.
Mr. McCourt graduated from George Washington University after focusing his studies on civil engineering. "I haven't spoken with him in a while, but when I think about him, I remember him as a genuinely nice guy, always pleasant to be around," Mr. Lee said.
Mr. Lee's feelings were echoed by many classmates and family friends. "It's a tragedy," said Jack Scott, a fellow member of the Class of 2006. "He was one of the nicest guys. He was 100 percent pure gem; always smiling, always in a good mood, always had something good to say. Anyone who every met him has nothing but good things to say about him."
Mr. Scott said he learned of Mr. McCourt's death when fellow alum Lee Verdecchia called him Saturday afternoon. "I had such a sickening feeling in my stomach," Mr. Scott said. "I still do."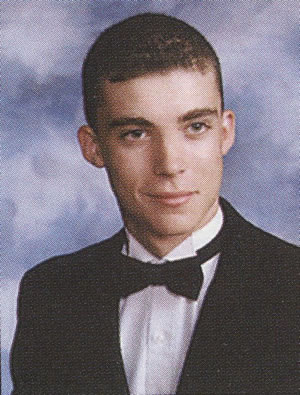 Patrick Thomas McCourt was born October 20, 1988. He was a popular figure around Huntington, performing in the marching band, serving as captain of the Blue Devil fencing team and participating in various school activities. "He was a great kid," said Alan Kuver, Huntington's fencing coach. "Tall and athletic, he did a nice job for us."
Mr. McCourt is survived by his parents, Patrick and Mary, two sisters, Kiera (HHS, '04) and Meredith (HHS, '10) and a brother, Michael (HHS, '09).
As word filtered out to Huntington High School alumni over the weekend that Mr. McCourt had been killed, many of his friends and friends of the McCourt family made plans to return to Huntington from distant points to pay their respects and offer their love and support.
David Acton at Notre Dame, Alex Lau at Georgetown and Kerry Hicks at St. Joseph's College in Philadelphia are three such McCourt family friends that all expressed their shock. "This is just the nicest family," Mr. Acton said. "It is so sad."
"Being in Washington, DC, Patrick was very helpful and very nice to me," said Mr. Lau, who graduated with Michael McCourt. "It's an awful tragedy. The McCourt's are such a great family."
Ms. Hicks played on the Blue Devil basketball team with Meredith McCourt and she also graduated with Michael McCourt. "It was very upsetting to get this news on Saturday," Ms. Hicks said. "It's hard to make sense of it. The whole thing is absolutely terrible."
Mr. McCourt participated in summer internships throughout college and quickly gained employment upon graduating from GWU.
In the 2006 edition of The Huntingtonian, Huntington High School's yearbook, Mr. McCourt's photo appears on page 38, along with the senior quote he chose from comedian Steven Wright: "I intend to live forever. So far, so good."