Woodhull's Emotional Remembrance
of Sept 11th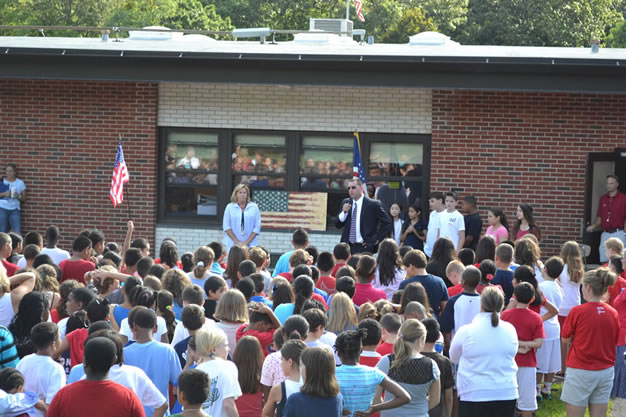 The anniversary of the events of 9/11 is often an emotional time for those who lived through that terrible day or who have studied it. So it was for the Woodhull Intermediate School community, which observed the 2001 terrorists attacks during an inspiring and educational morning program at the school.
The ceremony was attended by Woodhull's teachers, support staff and students, along with many parents. Immediately following recitation of the morning announcements, students were escorted out of their rooms and brought to the open fields located behind the school.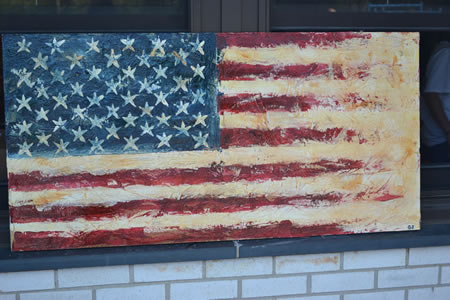 Six youngsters used a portable sound system to lead the assembled throng in the Pledge of Allegiance. Assistant Principal Jarrett Stein followed with an address that outlined the events of September 11, 2001 and what the tragedy meant to him personally.
Mr. Stein explained to students that the men and women who perished on September 11 weren't soldiers, such as the ones fighting in Iraq or Afghanistan. "They were innocent men and women who were just trying to make a better life for their families" and emergency service workers who wanted to help save the lives of others.
Woodhull Principal Mary Stokkers used the anniversary to discuss bullying, harassment and hate with students. Teacher Mark Helstrom followed with an inspiring speech about coming together as a school and community.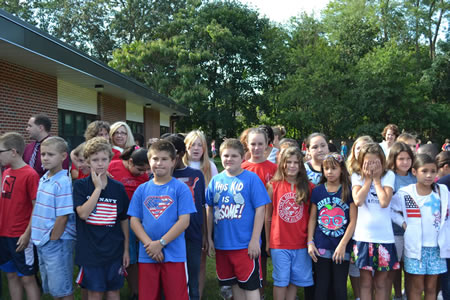 After Mr. Stein led the school in a moment of silence designed to remember the innocent men and women who perished on 9/11, music teacher Tara Adams performed an emotional rendition of "Taps."
The ceremony continued with Mr. Stein thanking those in attendance for participating in the event, stressing the importance of such observances and commending students for their fine behavior. The morning event wrapped up with Mr. Stein asking for blessings "on the greatest nation the world has ever known."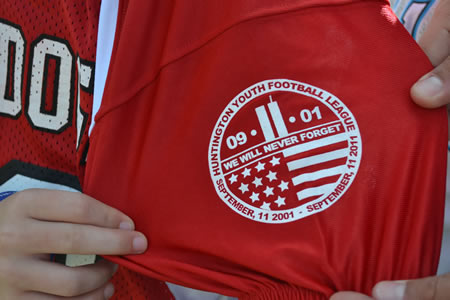 Students were attentive and respectful throughout the ceremony. "When the students arrived back in their classrooms, teachers showed an age appropriate video made by the people at Nickelodeon that tells the 'true story' of 9/11, with interviews from children who either lived or went to school in New York City during the attacks and their aftermath," Mr. Stein said.
Woodhull students were asked to express their feelings through writings, poems or artwork. "The reflection pieces were very well done and demonstrated the newfound understanding the students now have for the September 11 attacks," Mr. Stein said.