Natalie Hartmann Finds Joy at Wake Forest
It's always a sunny day for Natalie Hartmann. She finds joy in simple things and remains happy with her decision to attend Wake Forest University, where she's holding down a double major in Spanish and education.
A member of Huntington High School's Class of 2008, Ms. Hartmann has an engaging and endearing personality. "I love my majors," she said during a recent interview. "Education is amazing. I've learned so much about teaching and it has given me a chance to really involve myself in the community around my campus, being that I've visited and had [teaching] practice at a lot of schools in Winston-Salem."
Around Huntington High School, teachers remember Ms. Hartmann as a very hard worker who never slacked off. She's displaying the same traits at Wake Forest, despite a most challenging course load.
"My Spanish major is always a challenge, but it is extremely interesting because we cover everything from literature to grammar," Ms. Hartmann said. "This semester I'm taking a linguistics course, but the course is completely in Spanish. It is really difficult already with only three classes completed so far but the information is so interesting and it is really going to help with pronunciation of the language."
Ms. Hartmann is not the type of person who attends class and then disappears until the next day. She's involved at Wake Forest in various activities, including committees associated with Project Pumpkin, a campus-wide Halloween event. "I love it because it's really special for the kids of Winston-Salem and it is fun to advertise, decorate, distribute candy and take the kids around myself," the Huntington alum said.
At Huntington, Ms. Hartmann held down memberships in the National, Spanish and Art honor societies, serving as vice-president of the latter. She is also a longtime Huntington Historical Society volunteer. Despite a sometimes crushing schedule, she found time to participate on the varsity tennis team. From 11 AP courses and honor societies, to sports and the internship program, there was a lot to keep Ms. Hartmann busy.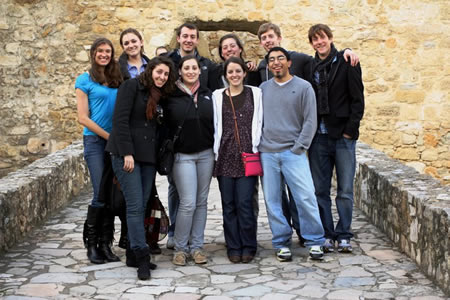 This year, Ms. Hartmann is also the service events coordinator for the Volunteer Service Corps on her campus. "We are a service group on campus that is behind the majority of on-campus and off-campus service projects," she said. "We provide ways for students to get involved and my job as a service events coordinator is to run the meetings with all of the members and plan the events that will happen throughout the year. Then I get people together and make the events happen. It is a lot of fun and an activity I've been doing since my freshman year and I absolutely love it."
Last spring, Ms. Hartmann spent a semester studying abroad in Salamanca, Spain. "It was incredible and easily the best experience of my life," she said. "I traveled to 13 of the 17 Spanish autonomies, as well as various cities in Portugal, Switzerland and France."
W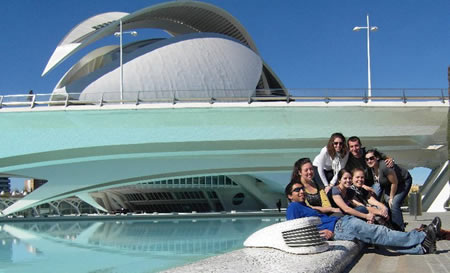 hile in Spain, Ms. Hartmann lived with a resident family in their apartment and attended the University of Salamanca, one of the most well-known universities in Spain and the most highly regarded school for learning the Spanish language.
"My family was wonderful and welcoming," Ms. Hartmann said. "I ate all meals with them and talked with them about everything and anything from recipes to politics. Over 20 exchange students from across the globe moved in and out while I lived there and the only common language between us was Spanish, which is the best way to learn. Through this, I've made great friendships with students from Japan and other places in Europe."
During weekend breaks, Ms. Hartmann stayed in Spain for further adventures, learning as much as she could about the country's culture and making lasting friendships with the other students that came along as part of the study abroad program. "During the week, apart from enjoying all of the local cafes and shops, I took all of my classes at the university and got to experience a different education system," Ms. Hartmann said. "All in all my experience was enlightening, irreplaceable, and unforgettable."
As she passed the halfway mark of her time at Wake Forest, Ms. Hartmann shows no signs of slowing down. She's intent on cramming as many experiences as she can into four years of college.