Big Blue Football Looks to Score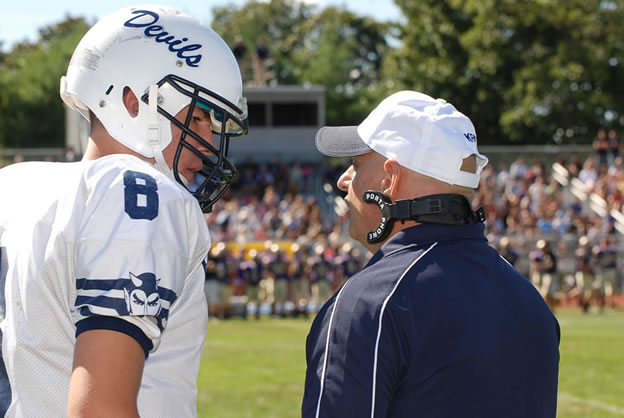 Suffolk Division III is definitely loaded this fall, but the Huntington High School football team is up for the challenge as the Blue Devils return a talented and veteran team.
Huntington dropped its opening game last Friday night in front of a large crowd at Westhampton Beach, 30-18. The Blue Devils will seek to regroup at Long Island Class II champion Bellport this Saturday, Sept. 17 at 2:00 p.m.
The coaching staff consists of head man Steve Muller and assistants Joe Poller, Jim McCabe, Ron Wilson and Todd Jamison. "It just didn't go our way against Westhampton Beach, but we saw some positives that we will build on," Muller said. "The team is working hard. We suffered some injuries during the pre-season that have hurt us. We have to get past those injuries."
Entering the season, Huntington is seeded No. 3 in the 12-team division. Sayville, who won the Division II county title last fall, is seeded No. 1 and Bellport is No. 2. The Blue Devils' high seed came as a result of its strong core of returning seniors. The team is expected to utilize multiple formations and a versatile attack on both sides of the ball.
Huntington returns a talented cast and has good senior leadership in All-State linebacker and Suffolk discus champ Trayvon Toney, veteran quarterback Dan Plant, linemen Jack Forster and Brandon Fiordelisi and receivers Jared Thorbourne and Thomas Mulligan. 
The Blue Devils will also rely heavily on a group of juniors who were big impact players last year, including linemen Shaheem Lewis and Nick Lupi, linebacker Davon Nelson and Frankie Caravetto. 
Among the rookie varsity players who have been promoted from last year's strong JV squad are T.J. Greenhill and John Mallouk, both of whom enjoyed spectacular seasons last fall. Greenhill rushed for over 1,200 yards and Mallouk collected more than 60 tackles from his defensive position.
Huntington scored first last Friday night when Plant reached on the end zone on a one-yard plunge. After the Hurricanes tied the score, the Blue Devils regain the lead when Plant threw a 50-yard touchdown pass to Mulligan.
Westhampton Beach scored 20 second quarter points to take a 20-12 lead into halftime. The Blue Devils scored one more time when Plant connected with Greenhill for a three-yard touchdown pass in the fourth quarter.
"This is a new week with a new game," Muller said. "We've already put last week behind us."