Huntington Grad a Wall Street Lawyer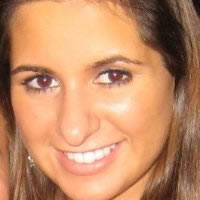 Christina Essopos is a Huntington High School graduate that has made all of her former teachers proud. She's practicing law as an associate with the Wall Street firm of Jaffe & Koumourdas, LLP and impressing a whole new set of folks who can't help but admire her sharp intellect, sweet nature and sensational sense of humor.
After graduating from Huntington on June 27, 2003, Ms. Essopos attended George Washington University in Washington D.C., compiling an impressive academic record. She held down a double major in political science and international affairs and minored in history, graduating magna cum laude in May 2007.
Jaffe & Koumourdas, LLP is located at 40 Wall Street in Manhattan. The firm's specialty is insurance defense. Ms. Essopos said her position "is great experience in terms of going to court every day." She's a member of the New York and New Jersey State Bar Associations.
The Huntington alum previously worked as a law clerk to New York Supreme Court Justice Milton Tingling and as a legal assistant at Karasyk & Moschella, LLP. She was research associate at William Mullen Strategies, a lobbying firm with a lengthy list of international clients. At Brooklyn Law School, Ms. Essopos was a member of the moot court honor society, serving on the group's executive board and was also a legal outreach mentor.
Christina Jean Essopos was a member of Huntington High School's National Honor Society and Foreign Language Honor Society and was corresponding secretary of the Class of 2003. She won the James Loebell Memorial Scholarship and the Political Action Committee Award. At the 142nd commencement exercises, she introduced then Superintendent John J. Finello to a crowd of more than 2,000 that gathered at Blue Devil Stadium on a warm Friday evening.
Ms. Essopos has also sought out and benefitted from a variety of internships. During high school she interned in the office of then-Assemblyman John J. Flanagan. During her years at George Washington University she interned in the National Republican Congressional Committee's finance department. She also worked on the 2004 Bush-Cheney presidential campaign, attending the "official" election night party, the inauguration at the US Capitol in January 2005 and the inaugural ball. Ms. Essopos later landed an internship in a US congressman's office.
The Huntington alum worked in the Republican National Committee's political department in 2006, the year Democrats captured control of both the US Senate and the House of Representatives. Ms. Essopos later commented that she "learned a lot about what works and what doesn't."
While working part-time as a butler at the John F. Kennedy Center for the Performing Arts during college, Ms. Essopos said the first person she served was US Secretary of State Condoleezza Rice.
Huntington teachers remember Ms. Essopos as a happy, articulate and exceedingly well-informed teenager. Today the Huntington grad is earning a new set of admirers on Wall Street.