Extracurricular Club and Sports Create Memories at HHS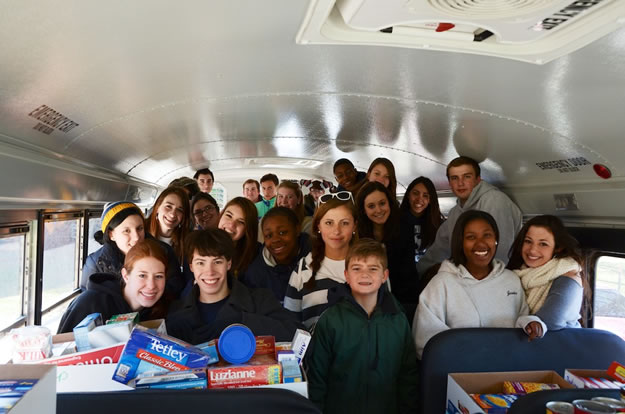 Some of the warmest and most meaningful memories for current Huntington High School students, as well as alumni of the school, are drawn from the after-school club and athletic program. Most students participate in one or more of the activities offered at the school and often cite such involvement as being a highlight of their scholastic experience.
A mountain of evidence shows that students who participate in extracurricular programs have better attendance, less discipline problems, higher grades, etc.
"Huntington High School has been fortunate to be able to offer many opportunities for students to become involved in clubs and sports," Principal Carmela Leonardi said. "Aside from the National Honor and the content related honor societies (English, science, math, Italian, Spanish, French, art and music), we run very active community involvement clubs such as Key club, Natural Helpers, Habitat for Humanity and A World of Difference."
There's such a wide variety of club and sports teams that it's safe to say there is at least one activity that is sure to interest every student. Many of the clubs involve community service on-and-off of school grounds. "Our teacher-mentors are dedicated to broadening students' experiences through these humanitarian activities," Dr. Leonardi said. "By being involved in much needed fundraising, students learn the positive impact that volunteering their time and talents has on their community."
There are dozens of junior varsity and varsity sports teams to choose from, too. Hundreds of Huntington High School students participate on teams in each of three separate sports seasons. Many athletes in recent years have been given college scholarships.
"Everyone is aware of the team building and leadership skills that can be developed not only through clubs and societies but also sports," Dr. Leonardi said. "Our high school is renowned for the athletic talents of our student body and for the mentoring efforts that coaches integrate into young athletes' training."
Individual classes are lead by a corps of student officers, as is the school's General Organization. The student council swung into action on the first day of school. Other clubs and activities are also hitting the ground running, including the yearbook and video clubs and an assortment of others.