Blue Devil Girls' Tennis
Ready to Volley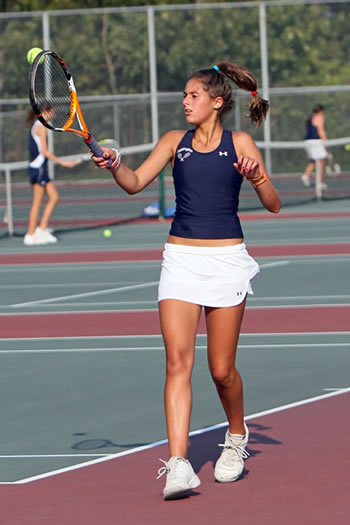 Jamie Fishlow is an upbeat guy. The longtime Huntington High School varsity girls' tennis coach is optimistic about the Blue Devils' chances this fall. Team members have been enthusiastic in early season practices and are confident they are headed for a successful campaign.
"We held our own in the league last year with a good crop of then sophomores, who are, of course, juniors now," Fishlow said. "I am looking forward to improving our record. I know some of my players have been working hard during the summer."
Fishlow said he expects returning juniors Olivia Ammirati, Jamie Brown, Rebecca Palladino, Samantha Dever, Melanie Grossman and Pauline McGlone to make major contributions to the team, along with seniors Marissa Schedler and Kristin Hartmann.
Kim Corley is also back after an absence of three years. Now a junior, Corley played on the varsity as a seventh grader, before going on a long hiatus. "She was quite a player then," Fishlow said.
Ammirati turned in a strong sophomore season last fall, winning a majority of her matches in N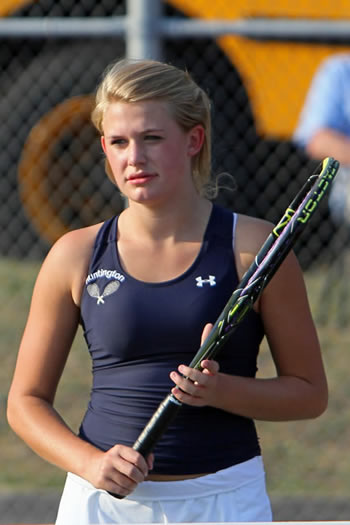 o. 1 singles and compiling an overall mark of 7-4 en route to All-League and All-Division honors.
Fishlow said Ammirati sought out the No. 1 singles position, knowing she would have to square off against the best player on every opposing team. "She worked hard and displayed confidence in her game," Fishlow said. "Her style is to never back down." The teenager went 5-4 in No. 1 singles and 2-0 in the No. 2 singles slot.
Nothing would make Fishlow happier than to see his players reach the post-season tournament. Time will tell if has reason to smile.