Mosaic Remembers Fallen Teacher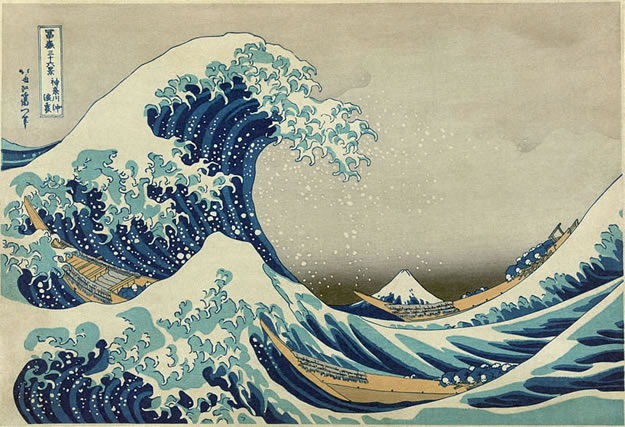 Robert Potter was a special man in the lives of his colleagues and students. When the Huntington High School art teacher passed away suddenly last fall it stunned and saddened the community.
Those who knew him and grew to love him are determined to prevent Mr. Potter's memory from simply fading away. Huntington art teacher Kim Valerio designed a memorial piece of Mr. Potter's favorite print by the Japanese artist Hokusai's, "The Great Wave off Kanagawa." Joan Fretz, district director of fine and performing arts, described the piece as a "beautiful mosaic."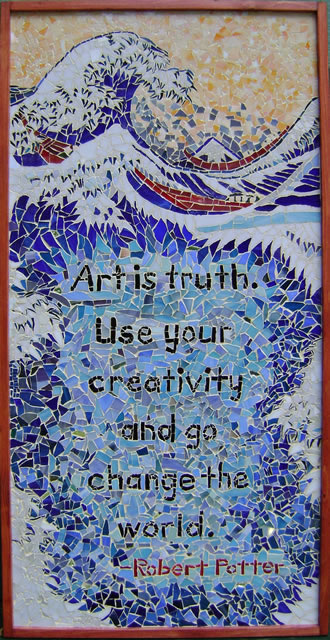 Students crafted the work as part of a group project in the beloved teacher's memory. The teenagers signed the back of the mosaic, which will be framed and hung on the wall outside of Mr. Potter's classroom.
"It's really interesting to see the different techniques that the students used to contribute their part of the mosaic," Ms. Valerio said. "Each student has their own style, and I can look at the piece and tell who made which part."
Mr. Potter, who taught ceramics (pottery) and sculpture, began working in Huntington in September 2006 after embarking on a major change in his career as an artist. After completing a bachelor of fine arts degree at Pratt Institute, he worked for 17 years for famed artist Peter Maxx.
While working as a practicing sculptor and studying for a master's degree in art education at Adelphi University, Mr. Potter came to Huntington High School to observe art teacher Kristin Singer's class. "We knew immediately that he was an incredible artist and teacher," Mrs. Singer said. "We followed his career and after student teaching, we were thrilled to welcome him to our Huntington art faculty."
The memorial piece is about four feet high by 30 inches wide and is an all glass mosaic. Then sophomore Ari Moskowitz spoke about Mr. Potter's affinity for "The Great Wave" during a January 12, 2011 memorial service for the art teacher in the Huntington High School auditorium. Hokusai's color wood print depicts a gigantic wave overcoming three small boats with Mt. Fuji appearing resolute in the background.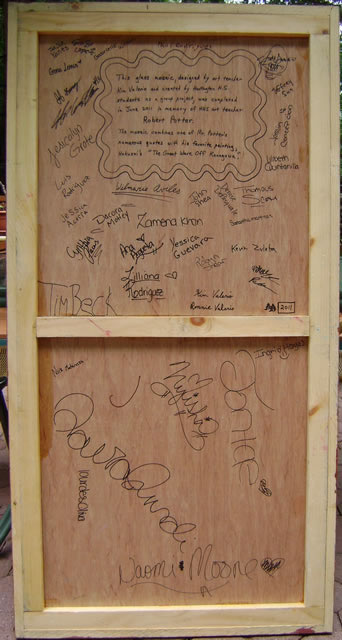 "I believe that life is a picture," Mr. Moskowitz said during the memorial service. "Everyone's picture is different. Everyone's picture has different colors, shapes, patterns and rhythm. Some people don't get to finish their picture, some people don't get to start their picture, but everyone has a canvas. Some people paint on other people's pictures, some people can try to help you paint your picture and give you ideas on how to paint it, but in the end, it is simply the painting of your life. No one else's. Just yours. When I envision Mr. Potter's picture, I immediately see water. I see the strength of water as well as its fluidity. I see a fisherman and quite possibly a fish. This explains why when I reexamined 'The Wave of Kanagawa,' I was able to more easily understand why he loved it."
It is believed Hokusai, who was born in 1760, published the print of "The Great Wave" between 1830 and1833. The Metropolitan Museum of Art is one of a several collections that contain a copy of the print.
"Mr. Potter loved this picture because Hokusai pays such attention to detail," Mr. Moskowitz said during his memorial address." The snow on the mountain, the caps on the waves, the shading on the caps on the waves; the people on the boats, the clouds; the list goes on and on."
As students and staff members pass by the mosaic this fall in the art wing of the school it will be hard not to remember Mr. Potter and marvel at what a gifted teacher he was.