Huntington Alum Runs 5K Race at Yankee Stadium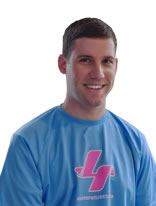 Sean Pawelec is indefatigable when it comes to raising awareness of pediatric cancer and funds to fight a disease that strikes far too many children. A member of Huntington High School's Class of 2003, Mr. Pawelec co-founded the 4Love Project with his then girlfriend, Jana Lee Piccola.
Mr. Pawelec and Team4 Love participated in the Third Annual Damon Runyon 5K run/walk at Yankee Stadium this summer that raised more than $620,000 for cancer research. The race drew a sold-out field of 4,000 entries from 30 states, ranging in age from five to 76. Proceeds from the race benefitted the Damon Runyan Cancer Research Foundation, which supports top young scientists pursuing innovative cancer research.
"We really had no idea what to expect and we were pleasantly surprised," Mr. Pawelec said. "Runners and walkers alike explored the stadium from the basement level to the upper concourses and ran their own victory laps around the warning track that circles the field. It was a great interesting course, but tough due to the stairs."
Ms. Piccola passed away on Oct. 31, 2008 from acute myeloid leukemia. A member of Huntington's Class of 2004, she was 21 years old at the time of her passing and had initially been diagnosed with cancer in the spring of her junior year of high school. After lengthy treatments drove the disease into remission, she lived a relatively normal life for many years, before becoming ill again as a college senior. She was awarded a bachelor's degree posthumously by Quinnipiac University.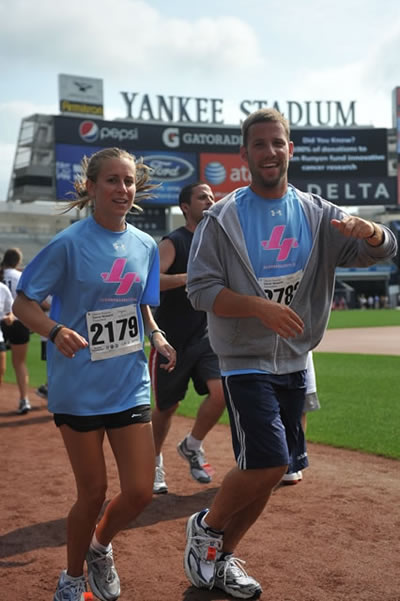 Mr. Pawelec was with Ms. Piccola every step of the way throughout her long battle. As her dedicated caregiver, he wrapped his best friend in love. The two co-founded the 4Love Project to raise awareness about pediatric cancer while simultaneously raising funds to benefit research efforts into finding a cure for the disease.
Team 4Love is a charity sports training program that participates in monthly races and related events. Team 4Love competes wearing the 4Love Project's official colors: pink and blue, which symbolize the young boys' and girls' who are stricken with pediatric cancer.
Mr. Pawelec also graduated from Quinnipaic University. He is completing a master's degree at C.W. Post College and will be student teaching science in the fall in the Copiague school district.