Washington Students Learn Not to Panic in Emergency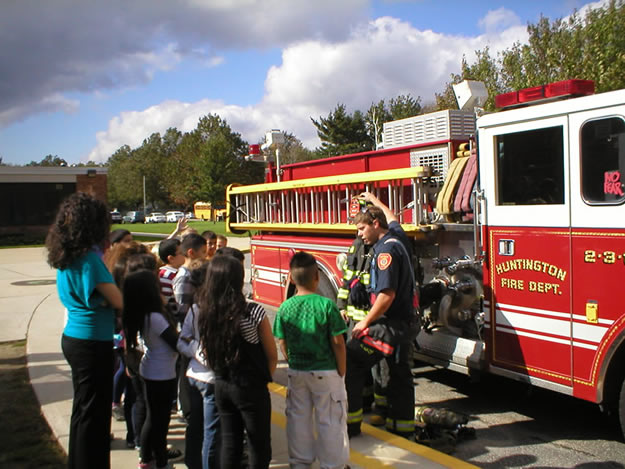 Staying calm and focused during an emergency can save lives. This is important for folks of any age to remember. So when emergency vehicles rolled into the Washington Primary School driveway this fall it wasn't for a cute little photo op.
Emergency service workers came to the school to help advance the cause of safety and improve the general knowledge of students about the role of firefighters and rescue workers.
Vehicles and personnel from the Huntington Community First Aid Squad and Huntington Fire Department arrived at the school on separate days for carefully crafted presentations tailored for young people. Every student in the people participated in the sessions and the youngsters responded with a mix of excitement and fascination.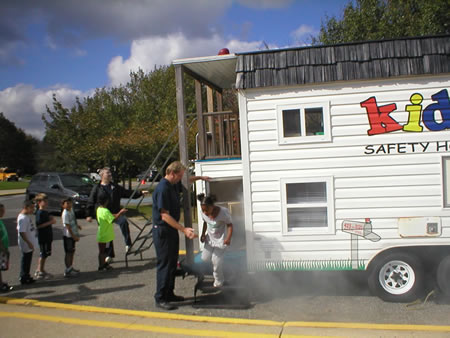 "These visits have become an annual tradition at Washington School," said Karen Martin, Washington's nurse and herself a member of the Huntington CFAS. "By encouraging our students to learn how to prevent injuries, including the importance of wearing a bicycle helmet and understanding the power of electricity, we hope to avoid a tragedy."
The youngsters learned about what rescue workers do, the equipment carried in a rescue vehicle and what it's used for. They even had an opportunity to go inside and inspect specialized gear. "They were fascinated," Mrs. Martin said. "It was a unique experience for them."
Rescue workers emphasized there is no reason to worry at the sight or sound of an ambulance or its siren or flashing lights. "We want every student to understand the ambulance means help is on the way," Mrs. Martin said. "Some children have to be reassured because they actually fear the sight of an ambulance. They need to know the workers are coming to help."
This year Washington School has an enrollment of about 450 students ranging from kindergarten through fourth grade. "The visits by emergency services personnel are focused on helping our students to stay safe and secure at home and at school," Principal Marsha Neville said. "We hope our students have the information they need to make good decisions about what to do during emergency situations."
The Huntington Fire Department provided classroom lessons in fire prevention and safety and what to do if an emergency occurs. Students were told that planning is essential, including devising an escape route out of house.
The youngsters learned about the devastating effect of fire, how smoke can also be a killer and how to avoid an awful fate by thinking quickly, but calmly. The department's Smoke House was brought to Washington to simulate conditions in a smoke filled home and how to escape to safety.
"It's helpful for students to know about the community resources available in an emergency," Mrs. Martin said. "It's great that these organizations are willing to work with our young people."