Washington Teacher Joan Balsari Passes Away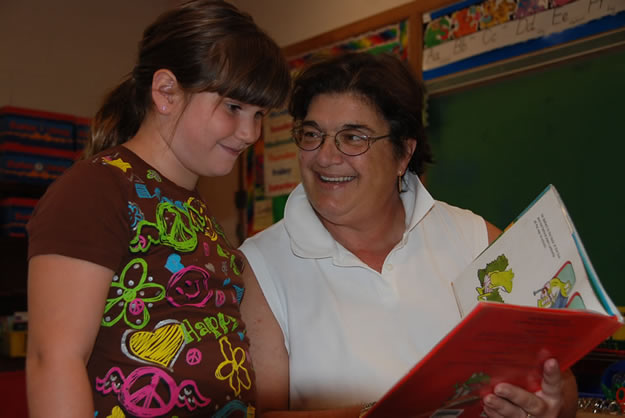 Joan Balsari wasn't one for pretenses. What you saw is what you got. She was a genuine article and known for "telling it like it is." The veteran teacher was the same way in her second grade classroom at Washington Primary School, where she joined the faculty in 1996.
Mrs. Balsari passed away Wednesday evening after a courageous battle with cancer. She had continued teaching her class well into this month and only learned the cancer had spread in the last two weeks.
"Joanie was loved by all of us here at Washington and losing her is devastating," Principal Marsha Neville said. "She was a professional who worked hard to give her students a fantastic classroom experience. The kids really liked her and so did their parents. To say she will be missed is an understatement. She is irreplaceable."
Born to a Huntington family on July 16, 1950, Joan Marie Balsari attended elementary and secondary school here and graduated from Huntington High School with her future husband, Dennis in 1968. The couple's only child, Denielle graduated from Huntington in 2003. Today Denielle works as a teacher in Commack.
Prior to coming to Washington School, Mrs. Balsari worked first as a teacher aide and then as a short and long-term substitute teacher in the district from February 1989 through June 1996.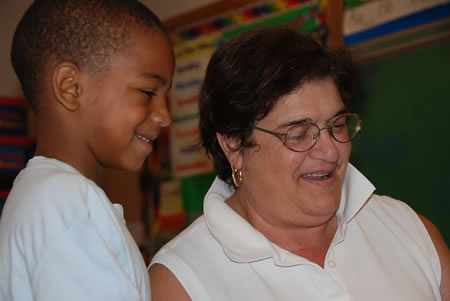 She earned an AA degree at SUNY Farmingdale, a Bachelor's degree at SUNY College at Old Westbury and a Master's degree in reading at Dowling College. She obtained teaching certification in ESL through Adelphi University and secured certification as an administrator through Stony Brook University, where she received an advanced graduate certificate.
"The Huntington School District has lost a real gem," Superintendent James W. Polansky said. "All of us were so very saddened to learn of Mrs. Balsari's passing. She will always be remembered for putting her students first. Her efforts on behalf of the children of this community will have a lasting impact as these young people mature and have families of their own. We were blessed to have her in our midst."
Mr. Polansky has only been on the job for four months, but his path had already crossed with Mrs. Balsari's several times. His office is in a wing of Jack Abrams School, the building utilized by the Town of Huntington for its Project Play/St. John's summer camp program, of which Mrs. Balsari served as director. "We met during one of my first days on the job and then again at Washington School several times," he said. "It was clear she loved working with young people."
"I can't wait to get to work each day," said Mrs. Balsari during an interview last year. She was known for playing classical music in her room while students read or completed a writing assignment. She bounced around the building throughout the day during breaks in her schedule, stopping to kiss and say hello to co-workers. On her way from the cafeteria to the faculty room she would often stop in the gym to share her lunch with one of the physical education teachers.
Mrs. Balsari, who served a stint as the Huntington High School junior varsity girls' tennis coach, enjoyed Washington School's diversity. "All of the students really get along with each other," she said last year. "It doesn't take them long to become good friends."
Jefferson Elementary School Principal Philip Nardone hired Mrs. Balsari as a special case aide. When Mr. Nardone transferred to Southdown School, Mrs. Balsari followed him. "He was really responsible for me going back to school," she said last year. "He said that because I was always around children and they responded so positively to me, that I should get a teaching degree."
After working as a substitute for six years, Washington School Principal John J. Finello recommended Mrs. Balsari for a probationary appointment. The two graduated Huntington High School together with the Class of 1968 and forged a close working relationship over the years, even after Mr. Finello became the district's superintendent in July 2001. He retired last June.
"Joanie was a very caring and nurturing teacher who gave her students everything she had," Mr. Finello said. "She didn't pull any punches in the classroom. She could be tough one minute and a real softie the next. She liked getting right to the point and the kids appreciated that. Her classes always had a lot of laughs."
At Washington, Mrs. Balsari taught first and second grades. "Getting up every morning and going to school gives me such a good feeling," she said. "I love seeing the children coming through the door with so much energy and a twinkle in their eyes."
After being diagnosed with cancer in the spring of 2010, Mrs. Balsari had surgery and commenced treatments at the end of the school year in June. She returned to work and enjoyed a good year with her 2010/11 class and got off to a strong start with her new class this year. She learned only recently that the cancer had spread.
Mrs. Balsari worked in the district's summer reading program for ten years, including three years as its principal. When it was discontinued as a result of budget cuts, she was hired as the director of Project Play/St. John's camp by the Town of Huntington.
"I encourage students to think for themselves and to come up with their own solutions and answers," Mrs. Balsari said last year. "I don't impose myself on anyone. Every student should feel comfortable and be happy to come to school. When a child feels good about himself and about his class, he will soar. It's exciting to watch it happen."
Visitation will be held M.A. Connell Funeral Home on New York Avenue in Huntington Station on Friday, October 28 from 2-4 p.m. and 7-9 p.m. Services will be private.