Southdown Celebrates Fall at Harvest Festival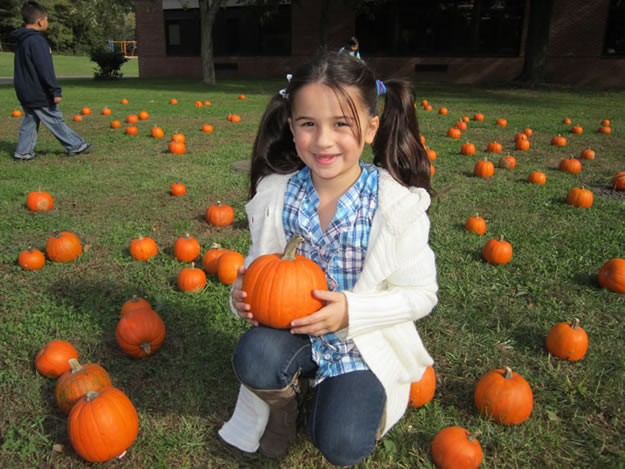 The grounds surrounding Southdown Primary School were once used for agricultural purposes during a time when the land was part of a large Gold Coast estate that swept down to the shore of Huntington Harbor. With that history in mind, farming and fall harvest activities are certainly not foreign to area.
Southdown's annual harvest festival celebrates fall and many of those farm-era traditions that seem to be disappearing from the community's consciousness. This year's festival offered unique educational experiences and perspectives for the hundreds of students in grades K-3 that participated in the activities.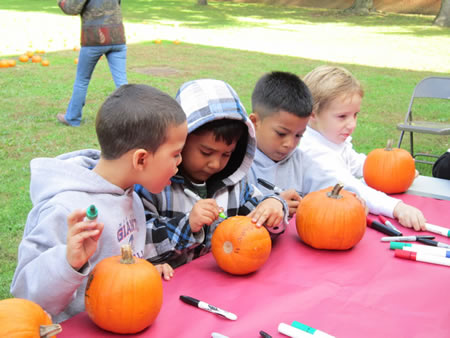 From a magic pumpkin patch, scarecrow building and interactive readings to races around an obstacle course, learning centers and singing during a hayride across school grounds, students learned so much and had an enjoyable time, too.
Kindergarteners "grew" pumpkins for themselves and for their fellow students after sprinkling "magic" seeds in a patch that overnight produced hundreds of bright orange pumpkins ready for picking on festival day.
The pumpkin planting exercise follows a long established script that does the trick every time. "They need just the right magic words followed by the pumpkin song and a poem," Mrs. Marino said. "We've been doing this harvest festival for many years and my kindergartners have never let us down. They always seem to have that magic touch!"
Physical education teachers Theresa E. Matthews and Chris Taylor and PTA volunteers brought students through a scarecrow building exercise that required the youngsters to put their ingenuity to use as each class created a head for the body.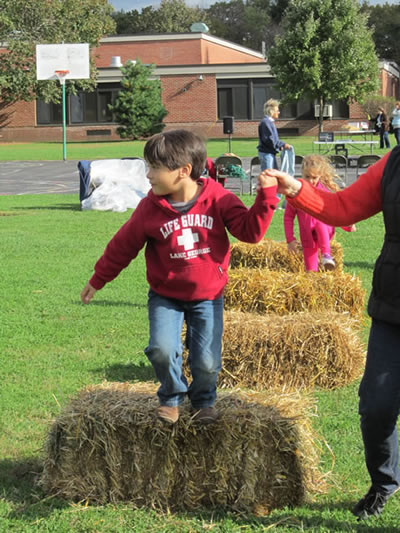 Librarian Ellen Blanchard led a series of interactive readings of some favorite books while students acted out parts and used various vegetables as props. Teacher aide George Murphy, a singer-guitarist extraordinaire, and music teacher Susan Graber led students in song as groups of youngsters eagerly climbed aboard a big building and grounds department truck for a ride around Southdown's grounds.
"The harvest festival is an annual event where the children celebrate the season by rotating through interactive learning centers," Principal Michelle Marino explained.
Not surprisingly, the pumpkin patch was quite a popular place. Kindergarteners went outside and spread seeds a day earlier and when the buses rolled in the next morning, a giant patch had mysteriously "sprung" up, just like that Youngsters took pains selecting the perfect pumpkin and then decorated it using colorful markers and a special flair.
The scarecrow stuffing station gave children a chance to practice their coordination and athletic ability as they jumped over bales of hay and worked collaboratively to stuff the clothing of a class scarecrow. To permanently record the moment in time, each class posed with their scarecrow for photographs.
The hay ride around the school grounds harkened back to an earlier era. Students happily sang along with Mr. Murphy and Mrs. Graber while sitting on hay brought in for the event.
"The harvest festival has become a Southdown tradition that the children, parents and staff look forward to each year," Mrs. Marino said. "It not only provides an afternoon of fun, but a lifetime of happy memories at Southdown."