Huntington School Briefs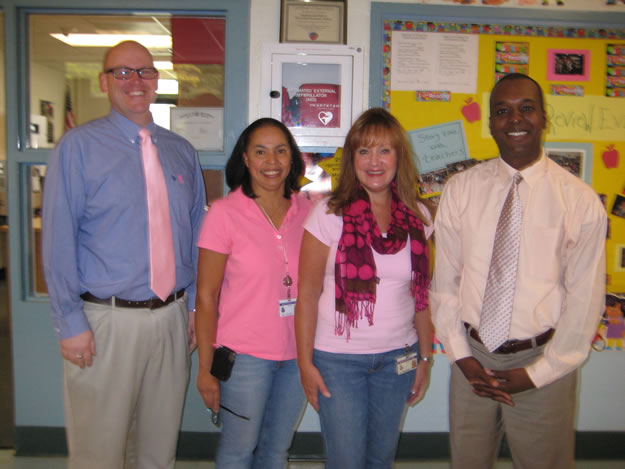 Flower Hill Primary School faculty and staff members recently observed Breast Cancer Awareness Month by celebrating a Wear Pink Day, led by Principal Marlon Small. Flower Hill made a contribution to the Susan G. Komen Breast Cancer Fund.
This Man is Everywhere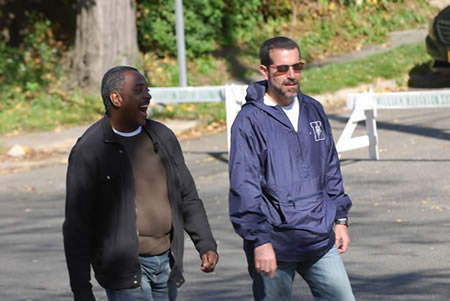 He came to Huntington with a reputation for being everywhere and Superintendent James W. Polansky has lived up to the billing. The school district's new leader is at work very early in the morning. He later spends time visiting buildings, sitting in on classes, observing teachers, attending games and assorted afternoon and evening events and conducting meeting late into the night.
Mr. Polansky likes to complete as much of his office work as possible during non-school hours, so he can be get into the district's seven school buildings as see teachers and students "doing their thing" and watch academic and co-curricular programs in action.
The new superintendent continues reading, writing, returning phone calls and e-mails and meeting with faculty, staff and parents well past the end of the "normal" work day.
Class of 2012 Float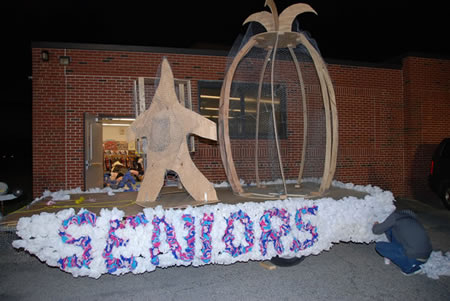 Huntington High School's Class of 2012 won the annual Homecoming Day parade float competition. The seniors' remarkable SpongeBob SquarePants themed float earned rave reviews. Those who saw the float Friday night at around 8 p.m. were amazed at the transformation that took place by the end of Float Night just four short hours later,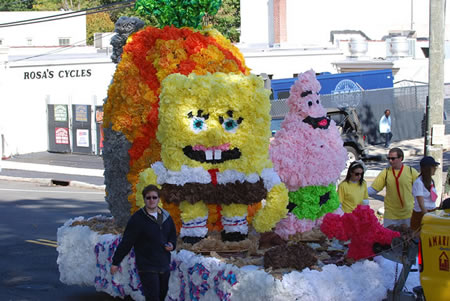 During the halftime festivities some information was read over the PA system about the float to the crowd of more than 2,000. "Take a look at SpongeBob and Patrick as they rotate back and forth waving to the crowds! Over 1,500 man hours were put into the construction, along with four million twist ties, 300,000 pounds of paper, 800 square feet of chicken wire, 11 trillion screws and 1,400 pounds of lumber. The total cost of construction was just shy of $1 million."
Those crafty seniors sure do have a good sense of humor, don't they?
Parent Visitations at Huntington High School
Huntington High School will be open for visitations over three days in November for the parents of students currently enrolled in grades K-8. Parents of students in grades 7-8 will be welcomed on Weds. Nov. 2; parents of fifth and sixth graders are invited to attend an open house on Weds. Nov. 16; parents of youngsters in grades K-4 will be at the high school on Weds. Nov. 30. Each of the open house sessions will run for one hour, beginning at 10 a.m. and concluding at 11 a.m.
Parents who are unable to attend the visitation scheduled for them, should contact Principal Dr. Carmela Leonardi at 673-2001 to arrange to visit with one of the other groups of parents on a different date.
The parent sessions will include parent tours of the building, visits to classrooms, labs and art and music rooms, the library and up and down hallways. Those participating in the visitation program will be able to learn more about the academic, athletic and club programs offered at the school, get answers to any questions they might have and clear-up possible misconceptions they hold.
The open house sessions are being sponsored jointly by the district and the Huntington Council of PTAs.
Kailene Abt in Huntington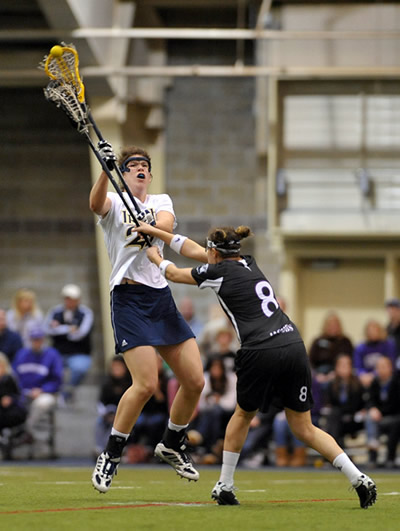 A Washington Primary School teacher did a double-take last week when he saw Kailene Abt on morning bus duty. Ms. Abt most recently starred on the Notre Dame women's lacrosse team. Last spring she started all 19 Fighting Irish games, tallying 26 goals, six assists, 11 ground balls, 20 draw controls and five caused turnovers. She fired off 41 shots on goal.
Ms. Abt graduated with Huntington High School's Class of 2007. She earned varsity letters with the Blue Devil soccer, basketball and lacrosse teams. As a high school senior, she scored 66 goals, including a pair of seven-goal games. She was named an Under Armour All-American and selected to play in the national all-star game in Baltimore.
Known far and wide as an exceedingly hard worker, an excellent teammate and a player who puts a premium on sportsmanship, the Blue Devil athletic family has a special place in its heart for Ms. Abt, who is regarded as one of the classiest young women to ever don the blue and white uniform.
Ms. Abt earned a bachelor's degree in sociology last May. She is considering pursuing a graduate degree in occupational therapy and plans to take some preliminary courses in the spring. In the meantime, she is substitute teaching in the Huntington School District.
At Notre Dame, Ms. Abt won four varsity letters. She started 60 of 75 games, scooped up 73 ground balls, won 91 draw controls, caused opponents to turn over the ball 45 times and took 228 shots on goal.

New Southdown Speech Teacher Appointed
Huntington School Board members approved the appointment of Kasey MacPherson to work as a long-term substitute speech therapist at Southdown Primary School through approximately December 13.
Ms. MacPherson obtained a BA degree in psychology at Siena College in May 2008 and a Master of Arts in speech-language at Hofstra University in August 2011. She completed her student teaching requirements in the Smithtown school district last spring.
District officials reviewed 15 applications and conducted four personal interviews prior to recommending Ms. MacPherson for appointment.

BOCES Board Meeting
There will be a regular meeting of the Western Suffolk BOCES Board of Education on Tuesday, November 8 at 7:30 p.m. The meeting will be held in the Western Suffolk BOCES administrative offices located at 507 Deer Park Road, Dix Hills, 11746. Call 549-4900 for more information.