Huntington Alum Leah Teplin Embraces Film Life
Leah Teplin is following her heart, pursuing a life in film and learning all she can about every aspect of motion picture art. She has been keeping busy professionally, wrapping up a short film just hours before a recent interview with her alma mater.
A member of Huntington High School's Class of 2007, Ms. Teplin earned a BA degree at Bennington College in Vermont with a double major in film and history. She also obtained a technical degree from the Prague Film School and spent time studying the French Revolution in-depth at England's Roehampton University.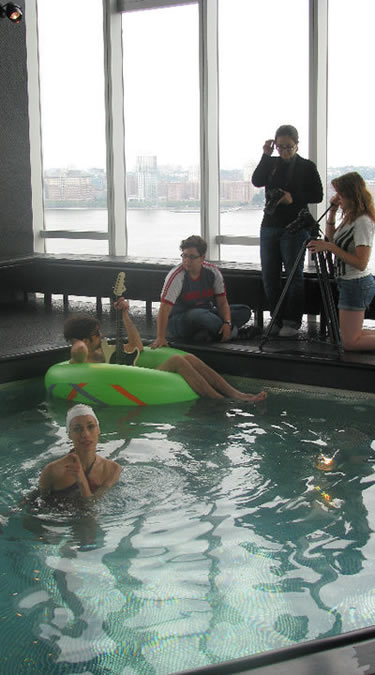 "Now that I've graduated, I'm working on film sets with a few big names, but mostly with really talented people that are under the public radar, but respected in the indie film community," Ms. Teplin said.
The Huntington alum has made the jump from working as a production assistant to being an assistant director, "which means that while the director is telling the actors what he wants and telling the cinematographer what he wants it to look like, I have to make sure everyone working the lights, organizing the props, getting the actors not on set ready, and making sure that everyone is on task and giving the director 110 percent."
At Bennington, Ms. Teplin was able to write and direct her own production, make clothes for the college's fashion show, work with New York City-based theatre troupe Stages on the Sound, intern in Shanghai, China with former Huntington High School art teacher David Gran, study in and travel through European countries and have an incredibly diverse and activity packed four year experience.
Ms. Teplin's current job is draining. "Its long hours," she said. "Everyone on the shoot worked somewhere between 14 and 20 hour days for a week straight, but that's what it is. And it's awesome."
The Huntington grad spent last summer working at a local online news network, the Huntington Buzz, "where I shot, edited and produced short videos about events in Huntington and even got to cover Fashion Week," she said.
What's in Ms. Teplin's future? "I've got a whole lot more of the same in the works, some of it my own scriptwriting," she said.