Huntington Students Aid Hurricane Ravaged Community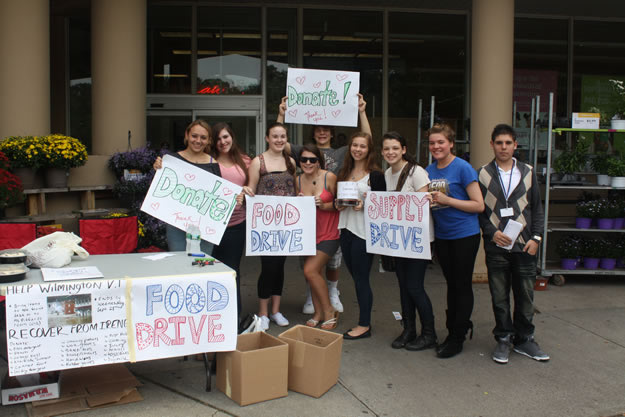 When Hurricane Irene devastated the quaint town of Wilmington, Vermont, Huntington High School art teacher Pamela Piffard was distraught. Her sister, Denise is a guidance counselor at Twin Valley High School in the area and the two discussed the stunning dimensions of the destruction, including businesses, homes and entire sections of the town wiped out.
As the faculty advisor for The Huntingtonian, the high school yearbook, Ms. Piffard isn't one to sit on her hands when there is work to be done. She brought the plight of the Wilmington and Mount Snow areas to yearbook staff members and they quickly mobilized, conducting a food and supply drive that Ms. Piffard termed "a monumental success."
Over the course of the three week initiative, students brought in all sorts of needed supplies. Yearbook staff members also took their efforts to the front doors of Waldbaum's on Wall Street in Huntington Village.
"We were all astounded at the generosity of the members of the community," Ms. Piffard said. "We provided a list of requested supplies to people as they entered the grocery store. There were people who literally came out with every single item on the list purchased and ready to donate. As a thank-you for the donations, the yearbook staff handed out baked goods."
While Hurricane Irene pounded Long Island, including Huntington and surrounding areas, the photos of the damage it caused in and around Wilmington, Vermont were just as shocking to Huntington's students as they were to Ms. Piffard. The group just knew they had to do something to help, but they surpassed all expectations.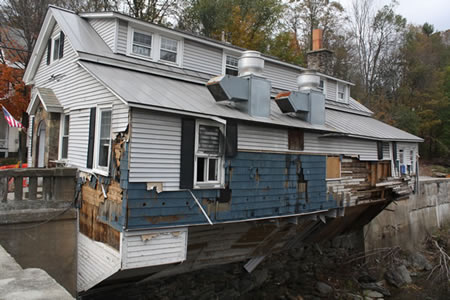 "I was so proud of my students," Ms. Piffard said. "They were so excited to be participating in this endeavor. I could see that their giant hearts were fully invested in making sure we had as much to bring up to Vermont as possible. Our biggest student contributors were Molly Prep, Brittany Oliva and Nikki Smoot. Day after day these three girls brought in donations."
When the drive reached its conclusion it was obvious that since so many goods had been collected, Ms. Piffard would not be able to transport all the supplies to Vermont in just her car alone. That's when a stroke of good luck intervened at just the right time.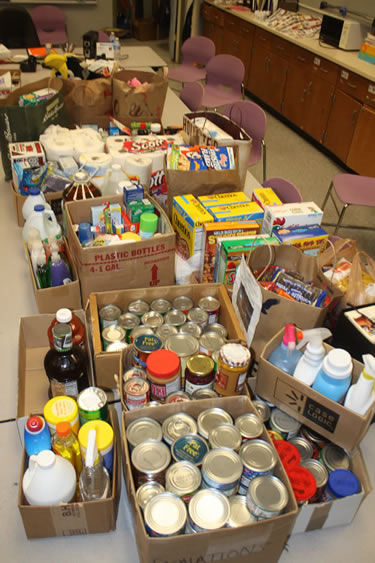 Huntington community member Tom Schirripa had read about the high school student drive and he sent Ms. Piffard an e-mail offering help in bringing supplies to Vermont. "So, I gave him a call and he showed up with his SUV and we fully packed it," Ms. Piffard said.
Huntington students loaded all the goods into the two cars at the high school. When the vehicles arrived at Wilmington's Twin Valley High School, students there helped unload and deliver the supplies to the organizations coordinating the relief efforts.
"Overall it was an outstanding outcome," Ms Piffard said. "We donated several thousand dollars worth of supplies to a community in need. I was so very proud of the Huntington community and my students. Everyone really came through!"