Flower Hill Invades Book Revue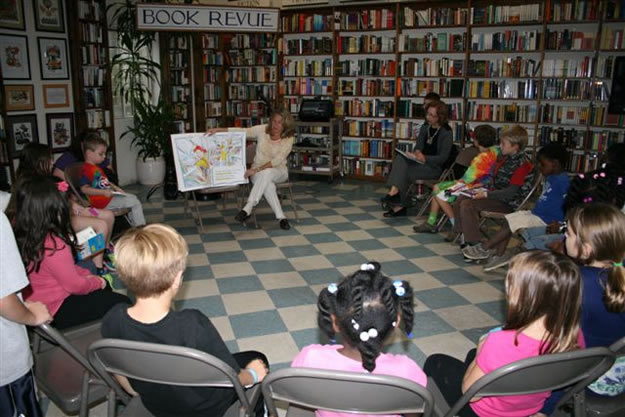 The Flower Hill School PTA isn't one to hold back. They want students to develop an appreciation for and even love of reading and the arts. The organization doesn't just sit on its collective hands once it sets goals. It's comprised of parents willing to put in lots of time and effort, as a recent event at Book Revue proved.
The rare Wednesday night outing for students and parents promoted reading at all grade levels in the school. "There were wonderful teacher readers, fun crafts and even a 'mad lib' for the children to fill out," parent Susan Lyons said.
A group of talented fourth grade band members performed under the direction of music teacher Mitch Malle at the event. "The children had only been in lessons for a few weeks, but they certainly made a musical impression," Mrs. Lyons said.
Story time was again a big hit this year, thanks to fourth grade teacher Jim Lauter, who read from his own book, Understanding Oma. The book has been described as a touching and beautiful story of Mr. Lauter's grandmother and family as they learn that Oma has been diagnosed with Alzheimer's. The role reversal that Mr. Lauter's family experiences helps bring new meaning to the word "understanding."
In addition to story time, the youngsters that turned out for the evening were able participate in craft making activities, including "beaded bookmarks" and "reading star" foam plaques, which they decorated.
"Between story time and crafts, the children and parents searched the stacks for their favorite books to purchase," Mrs. Lyons said. A portion of the proceeds benefited the Flower Hill PTA and its initiatives, but organizers said that perhaps the biggest benefit came from encouraging students to love books and reading.