Holly Flores Named Siemens
Regional Finalist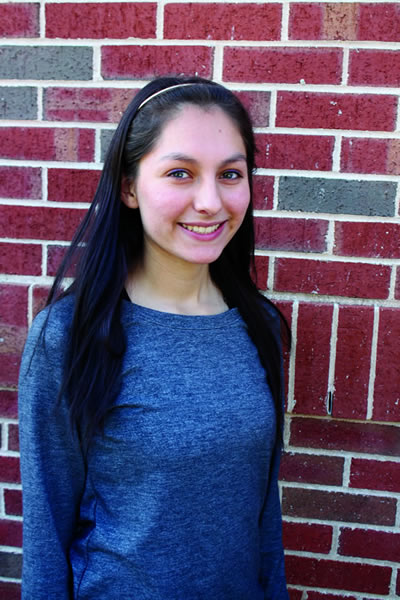 The Huntington High School science research program is walking on "cloud nine" after senior Holly Flores was named a regional finalist in the Siemens Foundation Competition in Math, Science & Technology.
Huntington senior Juli Coraor was named a semi-finalist in the competition, which bills itself as the "nation's most coveted teen science prize." Ms. Flores and Ms. Coraor have made a habit of winning science awards, but the duo has reached new heights this year.
"I am so honored to be chosen as a regional finalist," Ms. Flores said. "Long Island, and the rest of New York is definitely one of the biggest research cores in the world and every year increasingly younger students are researching at professional levels. There are so many talented students out there who have done such truly amazing projects that I simply cannot believe I was chosen to be one of the 13 kids selected from New York State."
"It's hard to find the words to describe the accomplishments of Holly and Juli," said Lori Kenny, the Huntington teacher who heads the high school science research program. "They are so driven and filled with excitement it's contagious."
With just 96 regional finalists in the country, Ms. Flores is in rarefied company. An unprecedented 2,436 students registered for the competition and record 2,541 submitted projects.
Engineered Bone
Ms. Flores' award winning project is titled "A Study of the Extracellular Matrix in Dental Pulp Stem Cell Differentiation with and without Static Magnetic Fields." The research project was conducted at Garcia MRSEC Engineering at Polymer Interfaces under the watchful eyes of two Stony Brook University mentor-scientists.
"Basically I engineered bone by differentiating dental pulp stem cells (DPSCs)," Ms. Flores said. "However, the focus of the project was to manipulate the external environment where the cells were growing and to then characterize the extracellular matrix (ECM), which is basically everything in a tissue which is not a cell. It is produced by the cells. The ECM is instrumental in regulating cell growth and functions through cell-matrix interactions, cytoskeletal organization, and integrin-mediated signaling."
Ms. Flores gets excited when discussing science, especially her research project. "Everything about the ECM controls the way the cells behave, particularly its shape, size, stiffness and protein composition," she said. "Understanding how the scaffold environment determines the size, organization and protein composition of the ECM can be applied to engineering a scaffold specialized to induce DPSCs growth and differentiation. The factors we used to differentiate the cells were: The chemistry of a polymer scaffold, a static magnetic field, and a chemically inducing media. By creating four samples of different combinations of the factors, we were able to find the best combination to differentiate the stem cells, and then characterize the ECM and its behavior in the various environments."
Participants in the Siemens competition can enter as individuals or as part of a team. The finalists and semi-finalists are exceptional at multi-tasking, conducting research in local labs, maintaining high grades in the most challenging courses, holding down leadership positions in their schools and often continuing to pursue their athletic, artistic and musical interests.
Going Head-to-Head in Regional Finals
Regional finalists will go head-to-head next month presenting their research with peers across the country. The events will be hosted by six of America's leading research universities: Georgia Institute of Technology, California Institute of Technology, Massachusetts Institute of Technology, University of Texas at Austin, Carnegie Mellon University and University of Notre Dame. The national finals are set for George Washington University in Washington, DC on December 3-5.
Ms. Flores and her partner, Austin Wild of South Side High School in Rockville Centre, are already preparing for Siemens regional finals at Carnegie Mellon University in Pittsburgh, November 18-19.
"We will present our research to many renowned scientists," Ms. Flores said. "It is there where we will find out if we make it to the national finals. The partners were awarded $1,000 each for advancing to the regional finals, plus an assortment of complimentary prizes. The duo is now in the running for the $100,000 first place prize.
The achievements of Ms. Flores and Ms. Coraor have helped shine a spotlight on Huntington's science research program. "Every morning Holly comes into my room filled with more enthusiasm than the day before," Mrs. Kenny said. "Even more exciting for me than seeing either of them win, is to see the skills, knowledge and love for research develop. I've been so lucky to see them light up and find their niche. This is only the beginning for these girls in their long list of goals. I feel honored to be a teacher in a district with such supportive parents and dedicated students that have made this research program successful."
"All of the research students have worked extremely hard to place themselves in a position to achieve in such a prestigious national competition," Mr. Polansky said. 
Implications of Research is Huge
The research conducted by Ms. Flores and Mr. Wild is highly regarded. "The implications of our results are huge and widespread," Ms. Flores said. "First, we have assessed that a static magnetic field enhances differentiation in DPSCs and that the ECM grows larger under its influence. Second, we have shown that the combination of a magnetic field and induction media can lead to a much greater growth and a collagen-rich, pliable ECM. This is the perfect environment for DPSCs to differentiate on. We have also determined that it is possible to perform tests on the ECM within the first week of growth to know if the stem cells are differentiating or not. This saves a great amount of time and resources, since it is generally necessary to grow the stem cells for a period of many weeks or months in order to confirm differentiation."
The Huntington senior began her research last summer and finished up on October 3. "So far, this year has been crazy," said Ms. Flores, who was a Siemens semi-finalist last year. "I had just finished one research project at Stony Brook University, when I was accepted into the Partners for the Future Program at Cold Spring Harbor Lab. I am currently working on a project there on characterizing the effect of a gene called Scribble in cancer seminoma cells."
Earlier this year, a Stony Brook scientist reviewed Ms. Flores' paper and took an interest in her project, extending an opportunity for Mr. Wild and her to further their research under the scientist's personal guidance. "This is an extraordinary opportunity and Austin and I should be starting that project later on this year," Ms. Flores said.
President of Science Club
The teenager is president of Huntington High School's science club. She is currently writing three grants for the school's research program and recently finished development of a website for the program, which is expected to be publicly unveiled soon.
"Although research is one of my greatest passions, I also love being part of different organizations and interest groups," Ms. Flores said. She is currently the lieutenant governor of Division 3 Key Club and just finished a term as deputy supervisor in the Huntington Youth Council, a townwide political/community service organization.
"I love all of my extracurricular activities, but with college looming so close, it has become a game of trying to manage applications and schoolwork on top of everything else," Ms. Flores said. "But really, I wouldn't have it any other way. In fact, I am looking to start a completely new research project this summer, combining the utilities of Stony Brook University labs with other nearby labs."
As far as the future is concerned, Ms. Holly is eyeing several top tier schools, including the Sophie Davis School of Biomedical Engineering at City College, Macaulay School of Honors, Princeton University, Columbia University, University of North Carolina and the University of Southern California.
"I want to major in either biomedical engineering and focus on cell biology," the teenager said. "It's my goal to attain an MD/PhD."