Blue Devil Boys' Win
to Gain Playoff Berth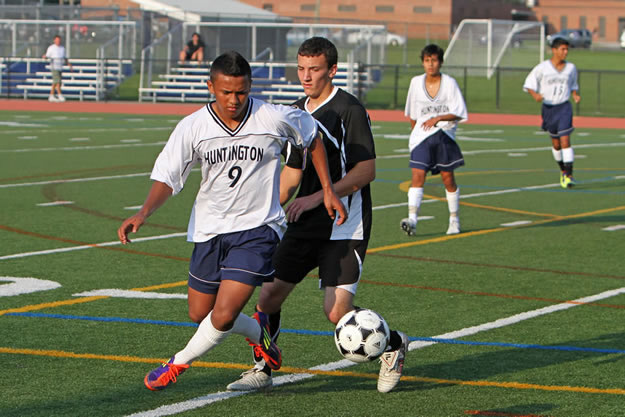 Ricky Velasquez scored two second half goals off assists from Andone Pleipez and Jon Pena to give the Huntington boys' soccer team a 2-1 victory over Deer Park and secure a playoff berth for the Blue Devils.
The two teams battled to a first half scoreless tie before Velasquez put two balls past Deer Park goaltender Nick Lazarich with the second goal coming with about 20 minutes remaining in the second half, to give Huntington a 2-0 lead. The Blue Devils hung on for the victory, much to the delight of the home crowd, which included Superintendent James W. Polansky.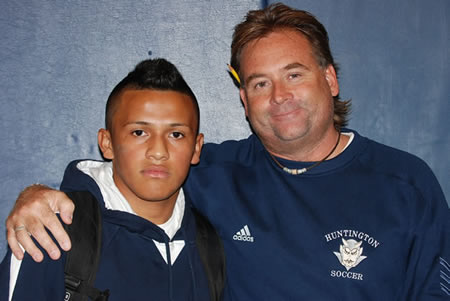 The victory improved the Blue Devils mark to 7-4 in Suffolk League IV. Huntington goalie Ari Moskowitz has allowed only 10 goals in 11 games, including just two in the past four contests. Velasquez ended last week with 18 goals, tied for third best in the county.
"Right now we are playing really well and just riding a wave," head coach John Pagano said. "We hope it continues and we can get a home playoff game. Everyone's has been great down the stretch. The defense has been really tight."
Huntington, which is 8-5 overall, has been perfect in its last four games, winning all of them by one goal. At Comsewogue, the Blue Devils trailed 1-0 at halftime before Velasquez found his groove, tying the game off an assist from Bobby Scott with about four minutes remaining in regulation and scoring the game-winner five minutes into the second overtime period off a pass from Pena. Moskowitz stopped four shots in goal.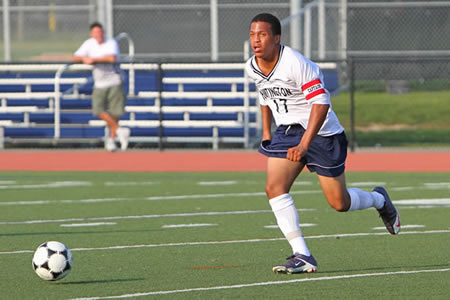 The Blue Devils battled visiting Copiague to a scoreless tie in regulation play before junior Grixon Moreira scored on a diving header about four minutes into the first overtime off a cross from Velasquez to give Huntington a 1-0 victory. It was Moreira's first goal of the fall. Moskowitz recorded three saves in the net.
At Hauppauge, Jon Pena scored the game's lone goal off an assist from Christian Campos about 10 minutes into the second half. Moskowitz stopped five shots and chalked up another shutout performance in the Blue Devils' 1-0 win.
If Huntington continues its hot play, there's no telling how far the team might advance in the Suffolk tournament. Pagano is hoping it's very far.