Huntington Upsets Islip on Homecoming Day, 35-32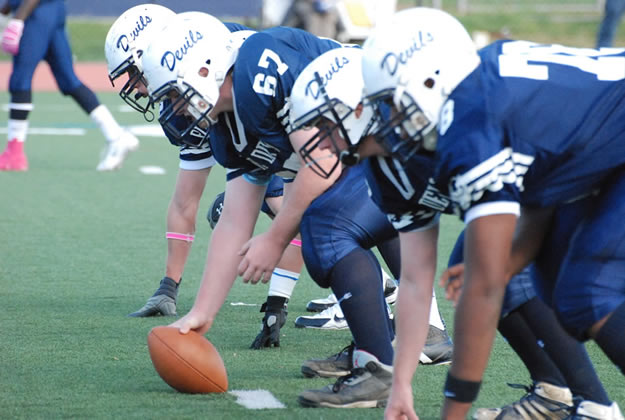 A wild offensive shoot-out saw the Huntington High School football team come-from-behind and upset powerful Islip last Saturday afternoon before a crowd of 2,000, 35-32.
It was Homecoming Day at Blue Devil Stadium, but that didn't stop Islip from scoring the first touchdown less than a minute into the game. Huntington (4-3) soon struck back as quarterback Dan Plant and company had little trouble moving the ball for most of the day. The Blue Devils kept pace with several big plays that gave them excellent field position.
"Islip's a great team and we knew this was going to be a tough game, but we have tough kids that play hard and play to win," Huntington head coach Steve Muller said. "So many kids stepped up and contributed. We really wanted to win this game." The Blue Devil offense piled up more than 550 total yards.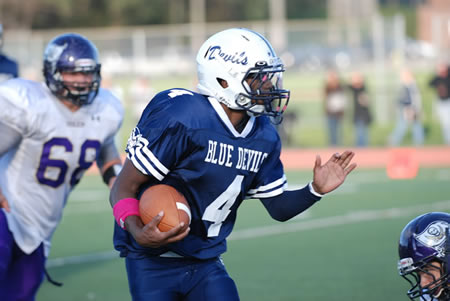 Trailing 7-0 in the first quarter, running back Trayvon Toney darted five yards to reach the end zone and send a bolt of excitement through the large crowd. Pat Reilly followed with the first of five extra-points and the score was tied.
Islip (4-3) quickly regained its footing and went back ahead, 14-7, but Huntington responded again, this time with a 57-yard touchdown bomb from Plant (five-for-five, 170 yards) to Tyler Greenhill (two receptions, 102 yards). Just as soon as Blue Devil fans got their hopes up, Islip deflated them, first with a 21-yard field goal and then with a 14 yard touchdown run.
Most of Huntington's problems centered on an inability to stop Islip's exceptional quarterback Joe Sabbatino. Faced with a 10-point deficit, Muller and his staff huddled with the team. It wasn't long before the Blue Devils had cut their deficit to 24-17 after Plant connected with Greenhill again, this time on a 45-yard touchdown pass.
Following a long halftime break that saw an assortment of Homecoming Day activities, including performances by the marching band and Highsteppers and the crowning of the king and queen, Huntington scored 14 answered third quarter points on two touchdown runs by Qu'ran Carter, who rushed 18 times for 182 yards and caught a pass for 13 yards.
The Blue Devils took a commanding 35-24 lead into the fourth quarter. Fans worried about a letdown after Islip scored on a two-yard run to cut its disadvantage to just three points.
Huntington was unable to run out the clock before Islip got the ball back. Sabbatino threw a long pass downfield that Greenhill picked off on the 20-yard line with less than two minutes remaining to give the Blue Devils the win.
Plant's passing and running were both magnificent. The senior ran for 174 yards on 13 carries and ran an offense that hummed for most of the afternoon.
Faced with a quarterback that could thread a needle with his passes, the Blue Devil defense did a credible jump keeping the score close. Senior linebacker Frank Caravetto recorded 14 tackles and a sack.
"Playing before a packed stadium was a real thrill for our players," Muller said. "Our fans are just great."
Huntington hosts cross-town rival Harborfields on Saturday. Kick-off is set for 1:30 p.m.
Blue Devil Notes: Thomas Mulligan caught a pair of passes for 55 yards . . . Davon Nelson rushed six times for 22 yards and made seven tackles . . . Trayvon Toney ran for 21 yards on five carries before being forced to the sideline in the second half . . . Reilly looked at ease while booting five extra points through the uprights . . . Qu'ran Carter recovered a fumble.