Southdown Welcomes Buster the Bus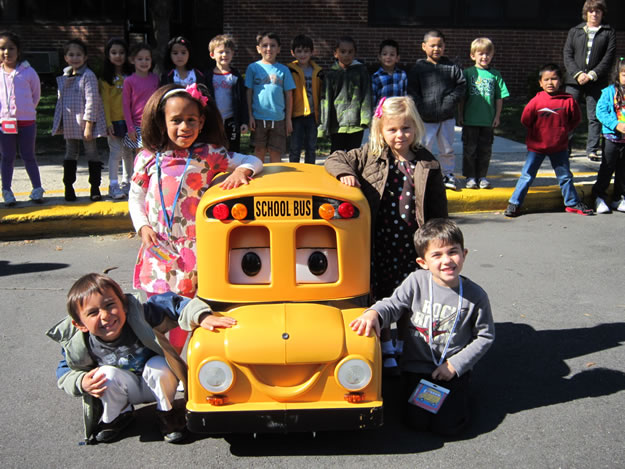 Bus safety has also been serious business in the Huntington School District. Huntington Coach Corp. feels the same way, too. So the company is sending Buster the Bus to elementary buildings, including a stop at Southdown Primary School, where earlier this week kindergarteners proved to be a receptive audience.
Huntington Coach employees are highly trained at presenting safety information to young children and they have a knack for bringing such sessions to life. The district has developed a close working relationship with the company and both parties share a desire to prevent student accidents and improve overall safety on buses and along local roadways.
Buster is a robotic, radio controlled miniature school bus designed to teach young students. Huntington Coach's safety team uses the device to help students understand basic bus safety procedures, including how to wait for the bus to arrive, how to board and disembark and how to move around the vehicle.
The visit was a real education experience for Southdown's kindergarteners. "They learned the safe way to exit the bus and cross the street; Counting five steps away from the bus toward the sidewalk and then ten steps ahead in front of the bus so that they could have clear vision of the driver and the driver could see them," Principal Michelle Marino said. "In that way, the driver could give the special thumbs up signal. Stepping too close to the bus, into the 'danger zone' could result in the driver not being able to see the students. The presentation ended with Buster singing a song and doing a little dance about bus safety which won the hearts of the children."
Huntington Coach is the official carrier of the Huntington School District and has invested significant resources in teaching students and drivers how to prevent serious incidents. The company is regarded as a leader in school bus transportation and has won numerous awards.
"Buster's presentation was very well received by the children and they were eager to show off their newly acquired safety knowledge and vocabulary," Mrs. Marino said. "The best part was watching the faces of the children as Buster spoke to them, blinked, danced and sang. I imagine he'll be the topic of many dinner conversations tonight!"
The Southdown School faculty and staff, like their colleagues all across the Huntington School District, continuously remind students about safe practices aboard buses and the etiquette expected of all passengers.