Renovations to Art Classroom Complete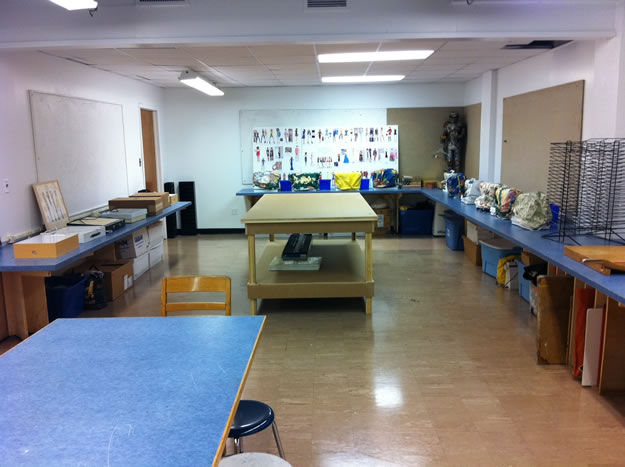 Amy Worth is smiling these days. Well, she's usually a happy person, but the Huntington High School art teacher is feeling especially upbeat after recently completed renovations to her lower level classroom.
Workers toiled to get all the little details just right. Ms. Worth called the final result "wonderful" and heaped praise on the district's facilities staff members who made it all happen.
"I teach three levels of Fashion Design & Illustration and two Creative Crafts classes in room 005 at the high school," the veteran teacher said. "My job was challenging due to a lack of space for my student's many diverse activities and a shortage of accessible storage space." 
The revamped art room space came just at the right time. "The expansion of my classroom has given my students the room they need to sew and allowed for a new cutting and ironing table, as well," Ms. Worth said. "New storage space in an adjoining room provides easy access to boxes of fabric and trimmings."
The fabric and trimmings were donated to the program over the past few years, but were all too often packed away and inaccessible to students. "I can't wait to see their creations given this new resource," Ms. Worth said.
The art teacher is eager to offer thanks to Director of Facilities Al White and department members John Williams, Anthony Berdat, Robert Miranda, Robert Ericson, James Muller and Lawrence DiMattei, "who transformed my classroom into a wonderful workspace by expanding into an adjoining storage room," Ms. Worth said. "They added shelves for light boxes and sewing machines and a great new worktable with an overhead electric outlet."
Huntington High School students are enjoying the expanded room and the additional opportunities it provides. Ms. Worth will always remember the efforts of the facilities staff members as she goes about leading her classes.
"I thank them all for their hard work and fantastic end result," Ms. Worth said about the buildings and grounds workers. "I am fortunate for having a supportive director in Joan Fretz and superintendent in Jim Polansky, as they both made this positive change happen. I hope everyone will visit the art show in May to see all of our talented student's work."