Blue Devil Girls' Runners Win Gold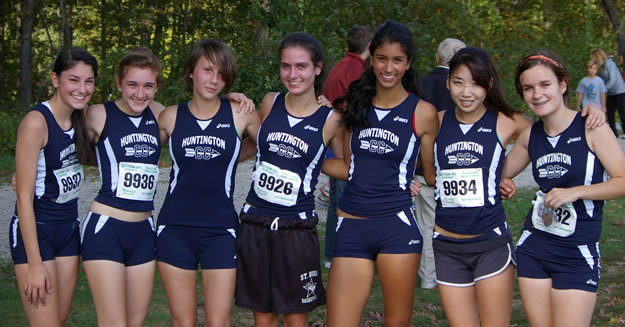 It was a gold medal winning day for the Huntington girls' cross country team last Saturday at the Nassau Coaches Cross Country Invitational at Bethpage State Park. Blue Devil runners were impressive across the board.
Senior Alexandra Martinolich placed sixth in the varsity 5K race in a time of 23:24. "Alex ran a very smart race and bided her time to out kick her competition," Huntington head coach Debra Cheskes said. The wind was a major factor with gusts up to 45mph. But, the muddy course was even more of a challenge.
Blue Devil senior Celine Takekoshi (23:50) and junior Margaret Petryk (23:53) finished ninth and tenth, respectively, in the 5K race. Returning from an injury that has sidelined her most of the season, Kerri-Ann Giambruno (24:40) placed 13th in her first 5K race of the season. Adelia Witt (25:11) placed 16th to secure Huntington's victory. Caitlin Yabroudy (25:49) and Ana Ruzic (26:38) placed 21st and 24th, respectively.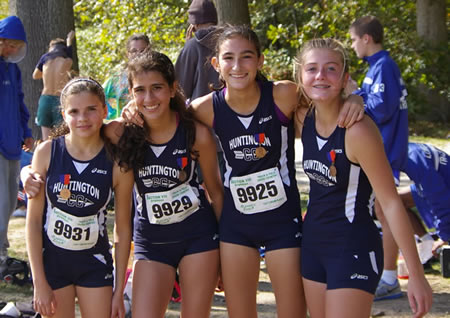 Huntington's Kiara Roman continued her fine running, finishing fifth in 23:30 in the freshman race at Bethpage State Park. Roman has been leading the Blue Devils all season and shows no sign of slowing down. Sara Stewart placed 11th with a time of 24:06, while Asar Nadi (25:16) finished 17th. Carolyn Cimetta crossed the line in 24th place. "The freshman not only ran well, they attacked the course, as this was the last invitational of the season," Cheskes said.
Huntington (3-2 in dual meets) topped Comsewogue (0-5) at Sunken Meadow State Park this week. The team honored seniors Celine Takekoshi, Alex Martinolich and Jacqui Gomez-Campos at the meet. The Blue Devils outscored the Warriors, 15-50. (The lowest score wins in cross country.) Takekoshi and Martinolich led a Huntington sweep of the top seven places.
"It was such a great way to end the regular season," Cheskes said. Huntington's 3-2 record in dual meets makes this the most successful cross country team since Cheskes has been the coach. The Blue Devils will compete in the Suffolk Divisional Championships next Tuesday.
"I feel the team has come together and there is no limit to what amazing times the runners will post at this point," Cheskes said. "The hard work, miles and dedication will all be worth it."