Retirement is not an Option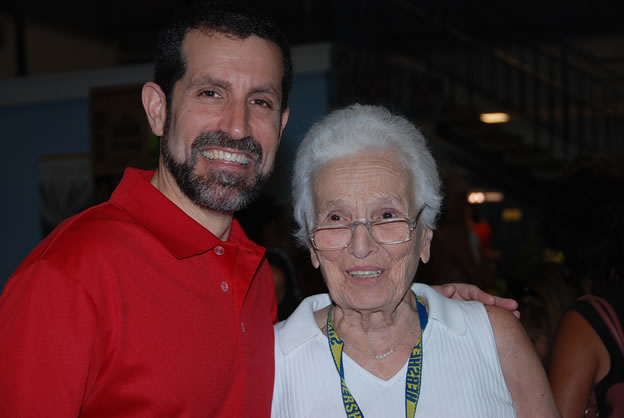 She has more energy than many colleagues half her age so don't expect to get an invitation to Ermine Brockschmidt's retirement party anytime soon. At 84 years old and in her 44th year on the job at J. Taylor Finley Middle School, the octogenarian is still going strong.
The folks at Finley hope Mrs. Brockschmidt never retires. She is as much a part of the foundation of the building as any of the bricks and mortar that keep it standing. "We hope she stays forever," Finley Principal John Amato said. "She's still on top of her work."
Mrs. Brockschmidt began working at Finley in September 1968 and is now serving under her fourth principal. Her work station is the front reception desk, where she greets visitors and has them sign into the building. She assists students with locker problems, processes youngsters arriving late, helps with mailings to parents and is ready to provide a variety of other services when asked.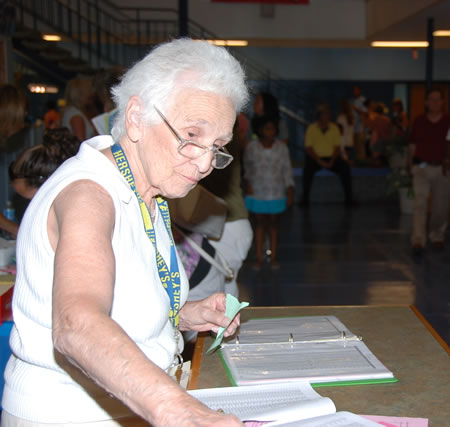 "I love it," said Mrs. Brockschmidt about her job and working at Finley. "I really do. I don't want to sit at home. I love getting out and being involved. I never want to retire."
A widow since 1976, Mrs. Brockschmidt said her family has quit trying to get her to slow down and retire. She isn't ready to call it a career and has even started volunteering with Meals on Wheels and at a Catholic Health Services hospice.
Work is a joy for this self-proclaimed "tough old bird." She was a fixture in the A&S department store at the Walt Whitman Mall for 18 years until the store closed. She quickly admits that she'd still be at the store today if it hadn't closed.
Mrs. Brockschmidt takes pride in never missing a day on the job and being able to solve all the different problems that come her way. If someone needs help she readily agrees to give it. During breaks, she enjoys reading from one of her many books or going for a walk in neighborhood near the school.
One of those school day walks led to the unexpected three years ago when Mrs. Brockschmidt stumbled on a sidewalk lifted out of position by tree roots along 25A near Finley. A passing cab driver stopped and took her back to Finley as Mrs. Brockschmidt supported her injured arm with her other hand.
Mr. Amato recalls the aide walking into the office and apologizing for the commotion, all the while ignoring her own pain. After surgery in a local hand specialist's office, Mrs. Brockschmidt was back ensconced in Finley's "blue zone," as the school lobby is called.
Finley's longest serving employee ever, Mrs. Brockschmidt surpassed math teacher Clinton Atkins, who previously held that distinction. Mr. Atkins retired in June 2008 when Mrs. Brockschmidt was a mere 81 years old and still going strong.
"I like the work that I'm doing and enjoy the people here, so why should I retire?" Mrs. Brockschmidt asked pointedly. No one has been able to come up with a good answer yet.