Huntington Linemen Lead
Blue Devils to Victory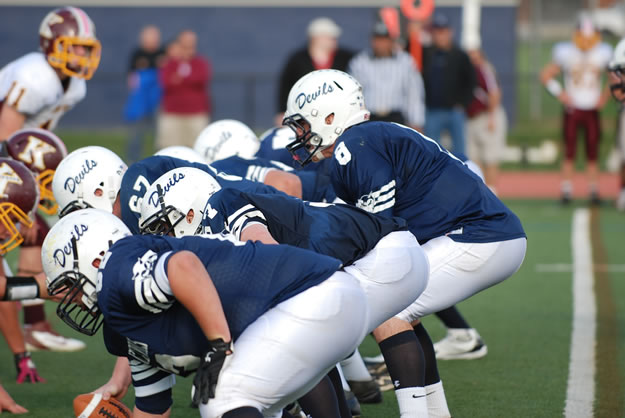 The Huntington football team's linemen, like most who play those positions, fly a considerable distance below the radar of most fans. But, on Saturday it was those men in the trenches that led the Blue Devils to an upset of visiting Kings Park, 24-14. The victory quite possibly saved the season.
Huntington turned in an impressive offensive performance, rolling up 446 total yards, including 332 on the ground. The Blue Devil runners were punishing, often requiring multiple tacklers to bring them down.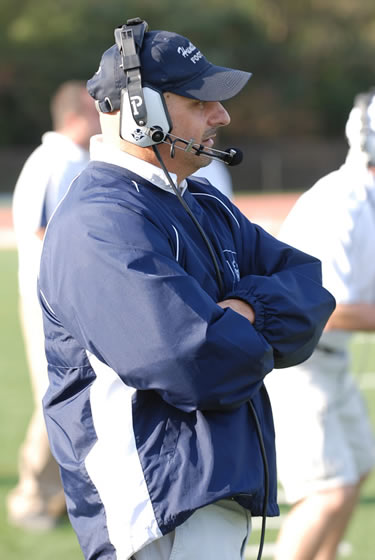 Huntington had dropped three of its first five games after suffering a string of devastating injuries. So it was a must win game for the Blue Devils on Saturday against a team known for its aggressive and physical style of play.
"There's no doubt that we needed to win," Huntington head coach Steve Muller said. A small crowd was in the bleachers for the opening kickoff, but the two teams went toe-to-toe early with Kings Park (3-3) notching two first downs before the Blue Devils made a few adjustments to tighten some of the alleys.
After a scoreless first frame, Huntington quarterback Dan Plant (4-for-8 passing for 104 yards) fired a bullet to wideout Tyler Greenhill for a 40 yard gain. The play set up a two-yard touchdown run by Davon Nelson.
A few minutes later the Blue Devils were at it again. Plant (14 carries for 126 yards) scurried 21 yards for a first down, setting the stage for a 22 yard touchdown run by Quran Carter. Patrick Reilly, who had earlier put two extra points through the uprights, booted a 20 yard field goal to give Huntington a 17-0 lead. "It was great to get some breathing room and to see both our offense and defense clicking so well," Muller said.
Linemen Larry McGill, Brandon Fiordelisi, Brandon Campbell, Shaheem Lewis, Jack Forster, Shamus Mrotzek and Nick Lupi played key roles in controlling the trench along the line of scrimmage, either opening holes on offense or shutting them down on defense. "I can't say enough good things about those guys. They carried us to victory."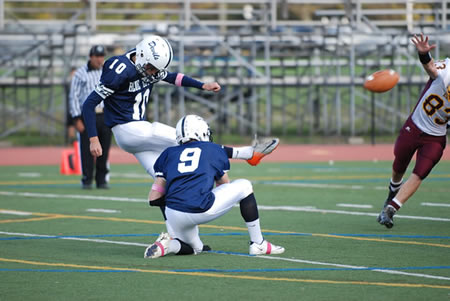 Trailing 17-7 at halftime, Kings Park was far from finished and the Blue Devils knew it. "They are a really fast, well-coached team," Muller said. "No lead is ever safe against them."
Huntington (3-3) was determined not to let this game slip through its fingers. Plant burst through the Kings Park line and scampered 28 yards down the middle of the field midway through the third quarter for another touchdown to open a 17 point Huntington lead at 24-7.
It was a day for fine performances. Trayvon Toney shook off recent injuries and rushed 11 times for 68 yards and seven tackles on defense. Carter ran for 112 yards on 12 carries and caught a pass for another eight yards. Nelson gobbled up 36 yards on nine carries and recorded four tackles, including two for a loss. Josh Long hauled in a 37 yard pass completion.
"We played a great all-around game," Muller said. "We want to keep playing this way the rest of the way."
Huntington hosts Islip on Saturday at 2 p.m. in a homecoming day game. Admission is free.
Blue Devil Touchdowns: The two teams wore pink accents in honor of Breast Cancer Awareness Month . . . Reilly was 3-for-3 in extra points and perfect on his only field goal attempt . . . Greenhill had two receptions for 59 yards . . . Nelson recorded one quarterback sack . . . Former All-County Blue Devil running back Calvin Bollar was at the game . . . Greenhill recovered a fumble. . . . Problems with the sound system knocked the PA announcer off the air for most of the first half on Saturday and came close to disrupting another stunning performance by the Huntington Highsteppers, the high school's competitive dance team. Fortunately, a temporary speaker was rigged just seconds before the scheduled performance and the 75 second show went off without a hitch. The Highsteppers are captained by Alexandra Smith, Kelly McConnell and Bianca Irrabino . . . Former Huntington quarterback great Dr. James Paci watched the first half from the sidelines.