Blue Devil Sports News
Huntington School Board members made several winter coaching appointments at their meeting last week, including Marissa Bergmann (assistant coach, varsity girls' basketball), Debra Cheskes (head coach, varsity girls' track), Louis R. Giani (assistant coach, Finley wrestling), Louis D. Giani (.7 assistant coach, varsity wrestling), Michael Kaplan (head coach, varsity girls' basketball), Edward Lein (head coach, JV boys' basketball), Timothy Madden (assistant coach, varsity boys' basketball) and Michael Marinello (head coach, Finley wrestling).
Alum Plays for Johns Hopkins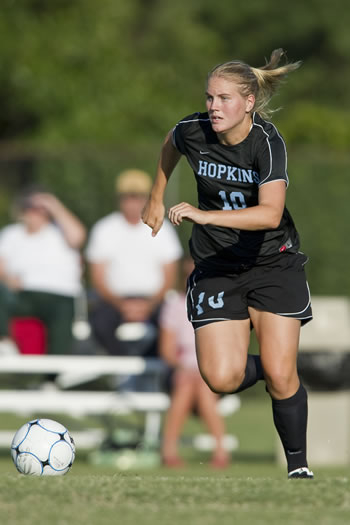 Leslie O'Brien, a member of Huntington High School's Class of 2008, is playing center midfield for the Johns Hopkins University women's soccer this fall. The 21-year old senior has appeared in eight games, starting four of them. JHU is ranked No. 5 in NCAA Division III and owns an 11-0 mark. It sits atop the Centennial Conference.
JHU has a suffocating defense this fall. The team has outscored opponents 46-5 and outshot them, 224-62. O'Brien played forward for most of her career before switching the midfield during the season last fall.
As a Huntington High School senior, Ms. O'Brien earned the coveted William Class Memorial Scholarship. She won all-county and all-state soccer honors while playing for the Blue Devils and garnered all-county recognition in winter and spring track. At the time of her graduation, Ms. O'Brien held four school track and field records. She also played two years of high school lacrosse.
Academically, Ms. O'Brien was among the best in the Class of 2008. She was on the school's high honor roll from her freshman year on, held a 98.6 grade point average, completed a slate of Advanced Placement courses and was a member of the National Honor Society and the Italian and Math honor societies.
The Huntington alum is currently taking classes required for a public health major and a minor in entrepreneurship and management. She expects to graduate in December, a full semester early.
Velasquez Nets Two Goals
Sophomore Ricky Velasquez scored two goals and added an assist to lead the Huntington varsity boys' soccer team past host West Babylon, 4-0. Jon Ceide and Wilson Martinez also scored in the game. Ari Moskowitz made three saves in goal for the Blue Devils.
Seven Saves for Lombardo
The Huntington girls' field hockey team dropped a 3-0 verdict to visiting Smithtown East, one of the best teams in Suffolk. Blue Devil goalie Maggie Lombardo stopped seven shots.

Campos Scores, but Huntington Loses
The Huntington boys' soccer team lost an exciting 2-1 game to Half Hollow Hills West, which remained undefeated in league play. Christian Campos scored the Blue Devils' lone goal. Ari Moskowitz was exceptional in goal, recording 14 saves.

Mehring Scores Twice
Allison Mehring scored two second half goals, but host Eastport-South Manor topped the Huntington girls' soccer team in overtime, 3-2. The Sharks scored the winning goal with 19 seconds remaining in the second overtime period. Blue Devil goalie Hannah Burnett made two saves.

Roman Finishes Fourth
Kiara Roman and Alexandra Martinolich finished fourth and fifth, respectively, but the Huntington girls' cross country team dropped a close verdict to West Babylon. Margaret Petryk led a pack of Blue Devil runners that captured eighth through 15th place. "Personal records were set by 12 members of the team," head coach Debra Cheskes said.