Blue Devils Top Rocky Point, 21-0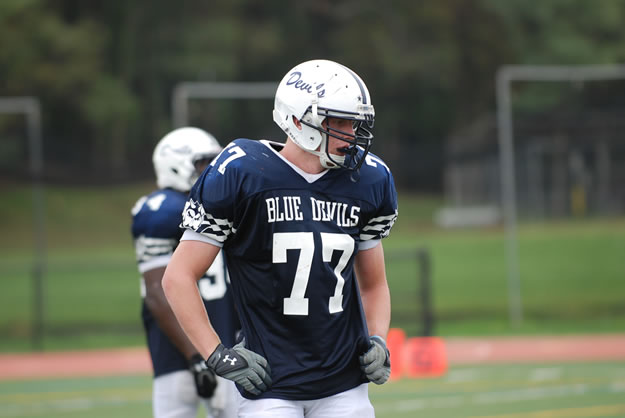 The Huntington High School football team rallied for 21 unanswered second half points to top host Rocky Point in Suffolk Division III play.
The two teams engaged in a fierce first half defensive struggle with neither able to put any points on the scoreboard. Blue Devil quarterback Dan Plant reached the end zone first in the third quarter, scoring on a four yard run.
Senior Quran Carter enjoyed a career day, running for 221 yards. The 5'10, 170 lb. Carter scored the game's second touchdown when he sprinted 70 yards. Devon Nelson put the game out of reach when he carried the ball three yards into the end zone. Placekicker Pat Riley was three-for-three, drilling the extra point through the uprights following each touchdown.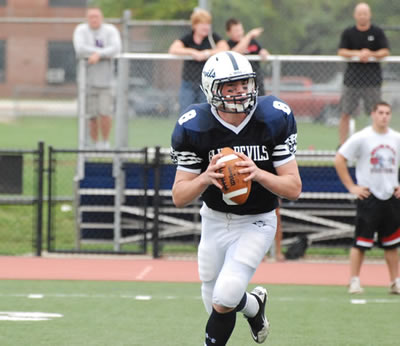 The Blue Devil season has been seriously undermined by a rash of injuries that have decimated the roster. The team's remaining players have been working harder than ever to keep Huntington competitive. "It was great to get the win," head coach Steve Muller said. "We needed something positive to build on. Hopefully we'll continue to get healthy and get some of our guys back. We want to finish the season strong."
Huntington's defensive packages worked perfectly against Rocky Point, limiting the Eagle offense to only three first downs all afternoon. Jack Forster recorded 12 tackles to lead Big Blue. Plant and Jared Thorbourne each picked off passes.
Huntington's 21-0 victory improved the team's record to 2-3 and put it in eighth place coming into this Saturday's game. The Blue Devils host sixth place Kings Park (3-2) at 2 p.m.
Blue Devil Notebook: The Blue Devils' ground game was hard to stop . . . Carter pounded the ball forward on each of his 18 carries . . . Plant rushed 11 times for 47 yards and completed two of four passes for 38 yards and an interception . . . Nelson rushed for 10 yards on three carries . . . T.J. Greenhill had one reception for 30 yards and rushed four times for 12 yards . . . Thorbourne caught one pass for eight yards.