Washington Ways Honors Top Students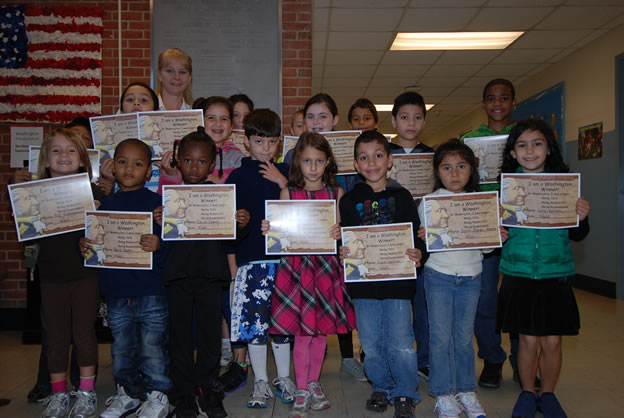 The Washington Ways program honored September's top students last week. The Washington Primary School initiative focuses on recognizing and rewarding positive behavior while encouraging students to be safe, respectful and responsible.
Students are given various colored tickets by teachers and support staff members for exemplary behavior. The tickets can be presented to the youngsters throughout the day.
White tickets are awarded weekly for good behaviors and actions in the classroom. White ticket winners are honored with special recognition in their classroom at the end of each week and their names are announced every Monday morning.
Red tickets are presented to individuals for notable good behavior outside of classrooms, including in hallways, buses, the playground and cafeteria, etc. At the end of the month, the student in each class with the greatest number of red tickets is recognized with a special certificate. Principal Marsha Neville announces the names of the honorees over Washington's public address system.
Entire classes can earn blue tickets for positive group behavior out-of-the-classroom. Blue tickets are also awarded to the two classes within the building with the most tickets overall. The new program has quickly caught on and students enjoy being cited and collecting the colorful tickets.
September red ticket honorees included Charles Cooper, Caroline McGreevy, Amirah Beverly, Janiya Alexander, Aislyn Franciscovich , Aiden Delfino, Yoselin Mendez-Acosta, Henry Stein, Kira Rivera, Keira Francis, Margo Nitekman, Andrea Seferian, Daniel Granados, Hector Erazo-Barahona, Trevor Cueto, Madeline Meidenman, Lily Stein, Christian Adams and Renato Erek.
Washington's "Blue Ticket" classes for September included those of second grade teacher Patricia Maltempto and fourth grade teacher Doreen Ellis.
"It's wonderful to honor these outstanding classes and students," Mrs. Neville said.