Finley's Special American Flag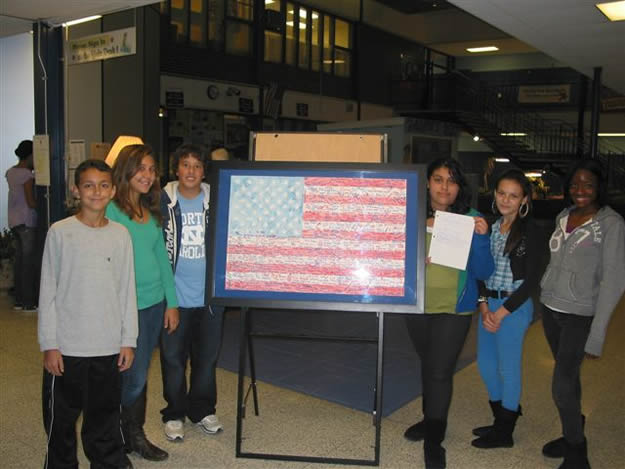 Patriotism has never been in short supply at J. Taylor Finley Middle School. Teachers and students always seem to find a way to show their love for all things American. Now there's a very special flag at the school, too.
The origins of the Hope and Freedom flag can be found in Finley's desire to recognize the tenth anniversary of the September 11, 2001 terrorists attacks in the United States. How to go about honoring those lost on 9/11 and those who courageously responded to the attacks demanded a large degree of thought.
"The web was full of ideas from every corner of the nation," Finley Principal John Amato said. "Educational sites, sites dedicated to counseling, as well as news and information websites, posted ideas on how we could remember the terrible event with hope, pride and compassion."
Mr. Amato absorbed all of this information, processed it and then settled on an idea that popped into his head while surfing the net. He made some adjustments here and there and just like that, the Hope and Freedom flag came to life.
At Finley, Mr. Amato took an idea he saw on a website and made a few adjustments and that's how the "Hope and Freedom" flag was born. "The idea was to have a flag that every student and staff member would sign," the principal said. "That flag would represent hope for the victims, their families and the emergency workers that they can one day have peace and a commitment to the freedoms we cherish in this country; freedom of speech, freedom to worship and freedom to vote."
Students were asked to submit essays and poems about 9/11. Seventh grader Michelle D'Allessandro penned two poems. The flag itself was sketched in pencil by art teacher Ayallah Jeddah. The flag measures 24 x 36 inches.
"The flag was placed in the cafeteria during all four lunch periods and all students and staff were asked to sign it," Mr. Amato said. "After the signing, Ms. Jeddah painted the red and blue bars in watercolor. The finished product is beautiful. The Finley PTA paid for the framing."
The new flag has been mounted on the wall of the Finley foyer, as the school lobby is known. It is expected to remain there for many years to come.