Blue Devil Band Home Show on Oct. 16
The Huntington High School Blue Devil marching band is on a roll after winning back-to-back first place trophies in competitions the past two weeks. One of the highlights of the fall season will come on Sunday, October 16 when the Huntington Band Parents' Assn. hosts the Blue Devils' annual home show.
Beginning at 12 noon and running until 3 p.m., the home show will feature performances by 11 metropolitan area bands and their color guards. The bands will battle each other in a scored competition with handsome trophies going to the top finishers.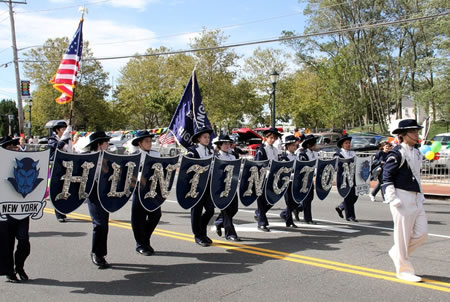 Since it is hosting the competition, the Blue Devil band is prohibited from competing, but it will present an exhibition performance near the end of the show. The bleachers and adjoining areas around Blue Devil Stadium are expected to be packed since previous shows have drawn capacity crowds. The facility is handicapped accessible.
Huntington's home show is an official New York State Field Band Conference competition. In addition to the Blue Devils, high school bands from Levittown, Walt Whitman, Sachem, Garden City, Oceanside, Malverne, Brentwood, Mineola, Lindenhurst and Mahopac will perform. Judges will grade each band in several categories and award each a final score on a scale of 1 to 100. 
Faced with substantial budget cuts, the Huntington Band Parents' Assn. has raised nearly $30,000 to help fund a full schedule of competitions for the Blue Devil marching band, including a trip to the state championships in Syracuse. The Huntington band is led by co-directors Jason Giachetti and Brian Stellato.

"The kids have been putting in long hours practicing," said parent Margaret Corvini, a Huntington Band Parents' Assn. volunteer. The season began last summer with a mini-camp and then a full-fledged, full-day camp program that persevered through an earthquake before being cut short by Hurricane Irene.
"They began with band camp in August (which this year was punctuated by the earthquake and then cut short by the hurricane).
Composed by Key Poulan, this year's Blue Devil field show is called "X!" It has 6 movements: X-Clamation, X-Celeration, X-Haustion, X-Aggeration, X-Otic, and X-Plosion.
The home show makes for a fun afternoon of booming sounds and colorful pageantry. Admission is priced at $6. An assortment of hot and cold food items and refreshments will be available for purchase and there will be raffles, too. For information call Mrs. Corvini at 631-804-7964 or e-mail mcorvini@optonline.net.