Dillon Blatt's Where He Always
Wanted to Be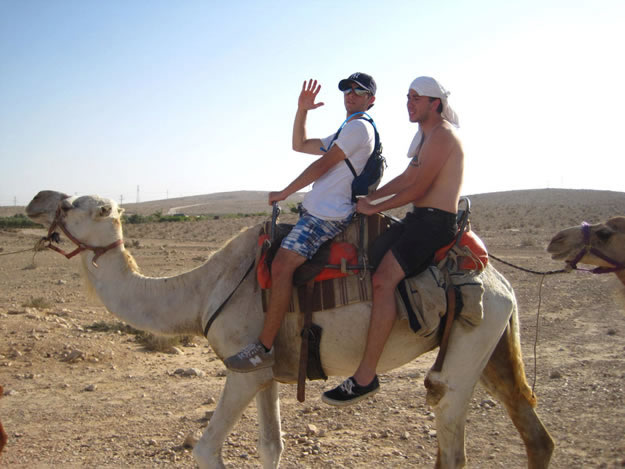 Dillon Blatt loves taking on a challenge. He's not afraid to roll up his sleeves and can often be found smack in the middle of where all the action is. He's a Huntington High School graduate that's always on the move, literally and figuratively.
When he was a high school senior, Mr. Blatt had his heart set on attending Binghamton University and studying in the School of Management there. But, it just wasn't meant to be. Binghamton put him on a waiting list and he eventually headed off to SUNY Oneonta, where he began classes in the fall 2009 semester.
"I definitely enjoyed my time at Oneonta, but I still knew that Binghamton was ultimately where I needed to be," Mr. Blatt said during a recent interview. "I worked hard during my first semester and sure enough, Binghamton sent me a letter which offered guaranteed acceptance as a transfer applicant for the spring 2010 semester."
While the Huntington alum was welcomed into Binghamton's Harpur College of Arts & Sciences, he remained determined to reach his goal. After earning a spot on the Dean's List during that first semester, he was finally accepted into the School of Management.
"I am now majoring in accounting in the Binghamton University School of Management, which is ranked among the nation's top 40 business schools (top 15 among public schools)," Mr. Blatt said. "This is just my fourth semester at Binghamton, but I will be graduating this May, one year early, and then will return to Binghamton next year for one year of graduate school to earn my master's degree in accounting."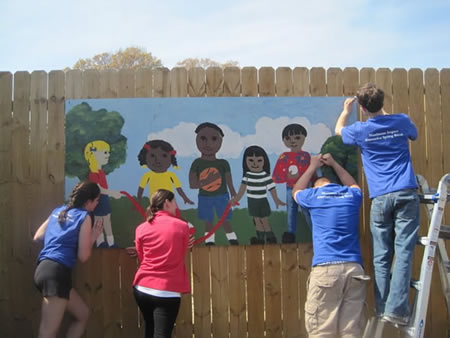 Mr. Blatt earned 22 college credits as a result of taking Advanced Placement courses at Huntington High School. He still found time to serve in several leadership positions, including the vice-presidency of both the Key Club and the National Spanish Honor Society chapter. With the Key Club he assisted in a clean-up around the Long Island Maritime Museum, pitched in with a district-wide coat drive organized by classmate Alex Lau and volunteered for the Safe Halloween program for elementary school youngsters and the school blood drive.
With Huntington's Spanish Honor Society Mr. Blatt tutored ESL students, helped raise money for a family that lost its home due to a devastating fire and volunteered at a local homeless shelter. As a senior he earned a $5,000 Huntington Lion's Club scholarship and a $250 Long Island Blood Services scholarship. He was recognized as an Advanced Placement Scholar with Distinction.
Mr. Blatt, who has made the Dean's List in college every semester, will be inducted this fall into Beta Alpha Psi, an international honorary organization for financial information students and professionals.
Besides studying and earning top grades, the Huntington grad is cramming an assortment of experiences into his college years that a person loses their breath just reading about them all.
"This past summer I was able to spend 10 days touring Israel on a Birthright trip with college students from all across the country," Mr. Blatt said." I met a bunch of awesome people on this trip, got to swim in the both the Mediterranean and the Dead Seas, and even rode a camel in the desert."
He has already accepted an internship offer for next summer from Deloitte, the world's largest accounting and consulting firm. "I will be working in advisory services with their business risk group in the New York City office, which is located in downtown Manhattan," Mr. Blatt said. "Deloitte has a partnership with Teach For America, and they offer an option to defer a full-time employment offer for two years for participants of the Teach For America program. I hope to gain acceptance from Teach For America, as well as a full-time employment offer from Deloitte so that I can spend my first two years after graduation teaching in a low-income community and then pursue a career in public accounting."
Mr. Blatt has been involved in a long list of student and professional organizations over the past 18 months, including Students In Free Enterprise or SIFE, an international non-profit organization educating people on concepts such as market economics, entrepreneurship, and business ethics through educational outreach projects.
"As an active member of Students In Free Enterprise (SIFE) last year, I worked with a team of students on an environmental sustainability project," Mr. Blatt said. "This past April, along with six other members, I was chosen to present the impact and results of our projects at the annual regional competition in New York City. Unfortunately, we fell one spot short of reaching the national competition, but I hope to reach that goal for this year."
Last fall, Mr. Blatt was elected as financial vice president of his residence hall government. "Throughout the year, I worked with four other officers to organize social, academic and other types of events for the residents of my building," he said. Our most notable event was a ski trip to Greek Peak in Ithaca. We collaborated with the SnoCats Ski & Snowboarding Club to organize a day trip for roughly 50 students."
The Huntington grad has also found time to be a member of Binghamton University campus chapters of Circle K International, a Kiwanis related group and Sigma Alpha Lambda, a national leadership and honors organization Both of the organizations focus on service, leadership and academic excellence.
Last March, Mr. Blatt participated in an alternative spring break community service trip to Memphis, Tennessee sponsored by Deloitte in partnership with Teach For America. "Along with roughly 40 other students and professionals from across the country, I had the opportunity to help improve local schools in Memphis and teach younger students," he said. Through my experiences in Memphis, I was able to meet some truly amazing people and learn a great deal about both Deloitte and Teach For America. Since then I have chosen to pursue career opportunities with both of these organizations."
Mr. Blatt is the Binghamton University campus campaign coordinator for Teach For America this year, recruiting students to participate in the organization's program. "Through this position, I work behind the scenes in order to develop and execute a detailed strategic plan aimed at inspiring top students at Binghamton to apply for the 2012 corps," he said. "As a recruiter, I have been able to enhance my professional skills in networking, marketing strategies and communication while gaining an understanding of how a successful non-profit organization operates. I plan on applying for the Teach For America program upon my completion of graduate school in the spring 2013 semester."
The Huntington is also working as a computer science course assistant at Binghamton. The post requires him to hold two discussion sections every week where he helps students work on their lab assignments through individual tutorials. "The coursework for this class teaches students proficiency in programs such as Microsoft Word, Excel and Access," Mr. Blatt said.
Between classes, clubs and work, Mr. Blatt has found time to play intramural softball in the spring and snowboard at Greek Peak, an Ithaca ski resort during the winter months. "Last semester, I even took a snowboarding course through Binghamton for college credit," he said.
Mr. Blatt retains a strong connection to his years at Huntington High School. Every year he goes on an annual snowboarding trip with "The Bros," his fellow Class of 2009 friends, Marco Lagone, Dylan Payne and Sean Whitney.