Maiarelli Returns from
France for Senior Year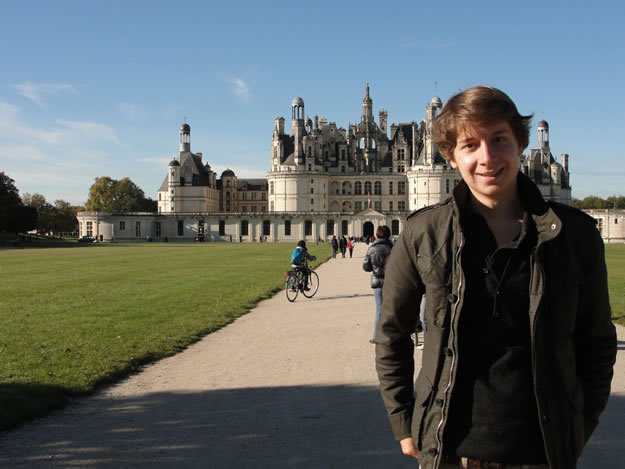 Nicolas Maiarelli has been one of the top students in his class for as long as anyone can remember. He's bright, inquisitive and enthusiastic and is willing to work hard. Teachers wish they had more students like him.
Mr. Maiarelli has returned from France for his senior year at Huntington High School. He spent 2010/11 studying in the School Year Abroad program. The teenager attended classes in Rennes, a city in eastern Brittany in the northwest of France.
"I had an incredible time and got to be really close with my host family, especially my host brothers who were 17 and 20," Mr. Maiarelli said. "The whole experience was so different at first, but after two months everything fell into a normal routine and by the time I had to leave I felt completely at home, so much so that it was a bit of a shock to be back in the states. Mostly I miss speaking French, the Saturday farmer's market, the café culture and the exciting atmosphere of Rennes."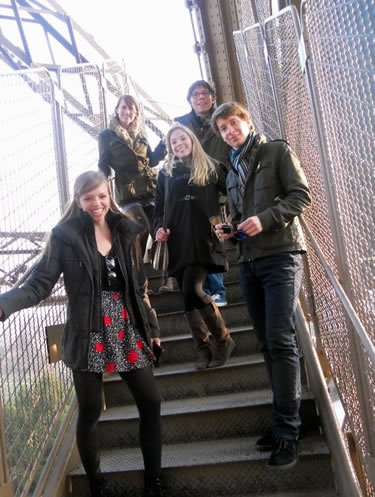 Mr. Maiarelli was among 70 U.S. students from the program studying in France. The Huntington teenager lived with a French family, continued to play tenor sax with a jazz group at the conservatory, took cooking lessons with one of his teachers, fenced at the municipal sports facility and pursued a very rigorous academic schedule of classes.
"School Year Abroad is the only secondary-level program which allows students to live with a European or Asian family for an entire academic year while earning U.S. graduation credits and preparing for selective U.S. colleges and universities," according to the organization's website. It was founded by the prestigious Phillips Academy in Andover, MA in 1964 and is supported by 40 of the leading independent schools in America.
"He's had a pretty amazing experience," said Ann Rathkopf, Mrs. Maiarelli's mother. The teenager was also able to engage in a variety of travel experiences and sight-seeing opportunities during the year abroad. 
Each year one of SYA's schools in China, France, Italy, Spain, Vietnam and Japan enrolls five dozen or more students to complete their junior or senior year of high school. Students come from both public and private schools across the United States. The SYA program emphasizes foreign language acquisition so as to allow participants to return home with "real mastery of a second language," according to the organization.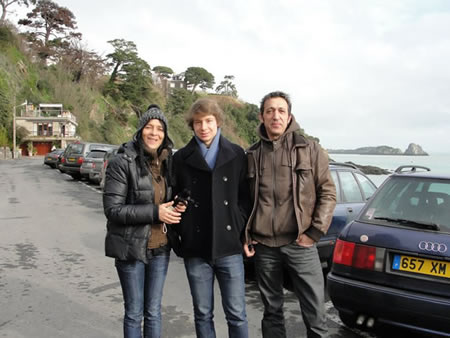 "Our teachers were French, and everything was taught in French, with the exception of English and math, but the curriculum was adapted for an American school so that our credits would transfer," Mr. Maiarelli said. "We had several guest speakers visit us, including the American Ambassador to France, Charles Rivkin, who is himself an alumnus of SYA France."
Mr. Maiarelli attended classes in an old townhouse that dates to the 1860's. The SYA academic program utilized five rooms or salles de cours in the French language. "The French teaching style was a bit of a shock at first, but once I got used to being graded out of 20 points and came to know what the teachers expected, I was able to adjust," the Huntington senior said. "My favorite class was 'Littérature Française,' where we studied Camus, Beckett, Voltaire, Baudelaire, Appolinaire, and many other authors and poets."
The Huntington teenager thoroughly enjoyed his year in France. "My commute to school consisted of a subway ride and a ten minute walk," he said. "Several times throughout the year we took school trips to various regions of France, including the Loire Valley and the south of France, Brittany and Normandy." 
Looking back over his European experience, Mr. Maiarelli said "overall, the most surprising thing was the difference in attitude adopted by French teens, a sort-of 'above all enjoy life' mentality that called for spending lots of time with friends, preferably 'en centre ville' in a cozy café sipping coffee or tea."