Conor Reilly Says Yes to
Canisius College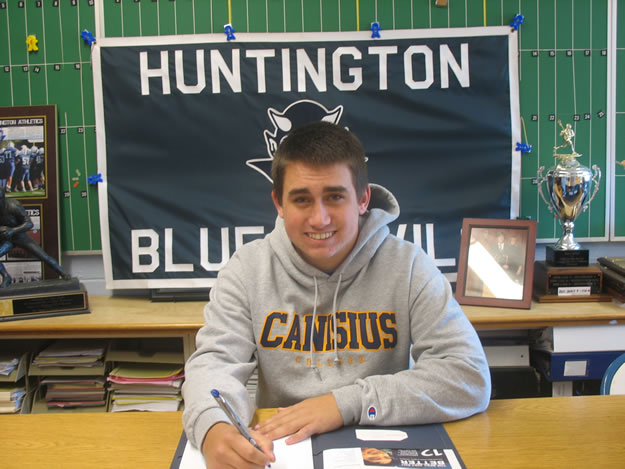 It's a big decision and Conor Reilly gave it plenty of thought. The Huntington High School senior weighed all the pros and cons, spent time on the campus, met members of the team and spoke at length with the coaching staff. Finally, he made it official by signing an NCAA Division I letter of intent to attend Canisius College and play lacrosse for Golden Griffins.
"I choose Canisius College after I visited and stayed over a couple of months ago," Reilly said. "During my visit I stayed in a dorm with the lax team and attended a class the next day."
The 5'10, 175 lb. Huntington teenager said he also visited several other colleges during the past few months, but "felt the most comfortable at Canisius. I really love the players and coaching staff." Reilly plays defense for the Blue Devil lax team.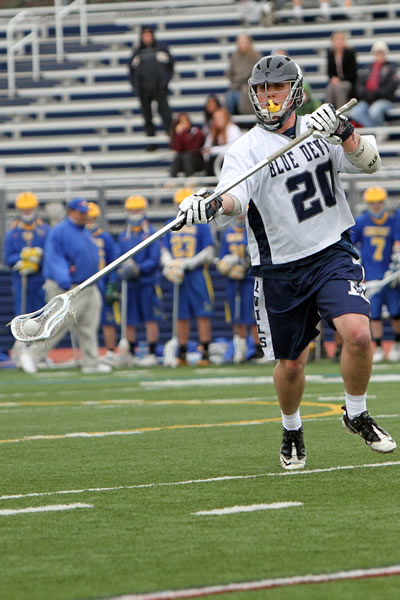 Founded in 1870, Canisius College is located in Buffalo. Its enrollment numbers 3,196. The school mascot, the Golden Griffin, is a mythological animal that is half lion, half bird of prey. During the Middle Ages, it had multiple uses as a religious symbol.
Reilly, whose brother Keegan is a Huntington freshman, has been a three-sport Blue Devil athlete for the past four years. In addition to lacrosse, he's earned varsity letters with the football and winter track and field teams.
The Huntington star has been playing lacrosse for a long time. "I started playing lax in kindergarten," the senior said. "I played for coaches Peter Beach and Frank Cutrone."
Canisius is coached by Randy Mearns, who is in his 14th season of guiding the Griffs. The lacrosse team competes in the Metro Atlantic Athletic Conference. "I am excited to continue my lacrosse career and play for Coach Mearns at Canisius College," Reilly said.
Reilly's college academic plans are still up in the air. "I am undecided on my major at this point, but I'm sure that Canisius College will help guide me on my decision," he said.