Flower Hill Second Graders
Prepare Pies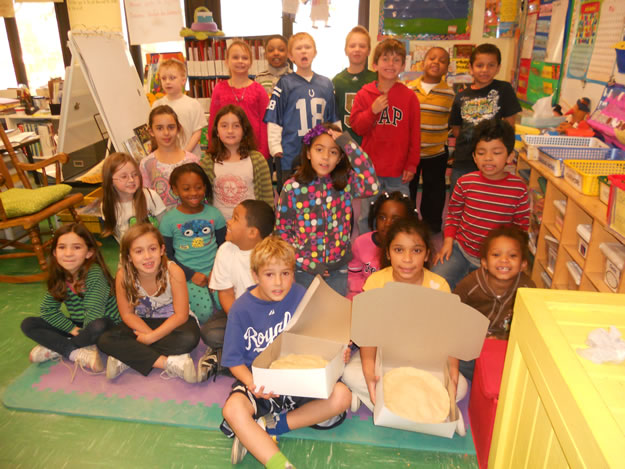 Thanksgiving means different things to different people. But, a sense of appreciation for all the gifts enjoyed by the United States and each person individually is usually at the center of anyone's observance of the holiday. Such was the case at Flower Hill Primary School last week.
Second grade teachers Lisa Baldanza and Suzanne Giuliani's talked all about the traditional meaning of Thanksgiving in America, its purpose through the years and how it is celebrated today. The youngsters decided it would be a good idea to do something to help others in an effort to "give something back" to the community that has been so good to them.
Students were in agreement with their teachers that the Helping Hand Rescue Mission on Broadway in Huntington Station is doing very good work with the needy and less fortunate in the community. A decision was reached to prepare four pies for donation.
All the ingredients were brought to school and with a little guidance here and there, the youngsters helped create delicious looking pumpkin and apple pies, four in all.
All that was left to do was for class parents Erin Sclafani and Tina Varvatsas to take the impeccably prepared pies home to bake. The two parents did that oh so well and then brought the goods to the Mission in plenty of time to be given to needy families for Thanksgiving.
"It was a great exercise for teaching our students all about the concept of giving and demonstrating appreciation during the holiday season," Mrs. Baldanza said.