It's Ohio Wesleyan for PJ Beach
Huntington High School senior PJ Beach has always had a thing for lacrosse. Not only has it been his favorite sport, it's what he's always wanted to do in college. He will be getting his wish after the teenager committed to attending Ohio Wesleyan University next fall.
"I have been playing lacrosse since I was in second grade, starting with the Huntington Village youth program and then for Finley Middle School and Huntington High School," Mr. Beach said. The teenager was the junior varsity team captain as a sophomore and has been a member of the varsity ever since.
Beach has worked hard to develop his skills. He's played with his teammates in countless summer tournaments and attended various recruiting camps. College coaches have seen the Blue Devil in action and he's gained their respect.
After weighing his options, Mr. Beach decided to apply to Indiana University, Ohio Wesleyan University and Washington & Jefferson College. "I was accepted to all three," he said. "After visiting each of the schools this fall and meeting the coaches, I decided Ohio Wesleyan was where I wanted to go."
When Mr. Beach went to his mailbox on November 3 he saw a letter from Ohio Wesleyan. The senior opened it and learned he had been accepted and was selected to receive a Branch Rickey scholarship.
Mr. Rickey, a 1904 OWU graduate and National Baseball Hall of Fame member is best known for signing Jackie Robinson to a contract with the Brooklyn Dodgers, effectively breaking Major League Baseball's color barrier. He was a pioneering baseball executive, setting in place many innovations from a full-time spring training site to the use of batting helmets, pitching machines and batting cages.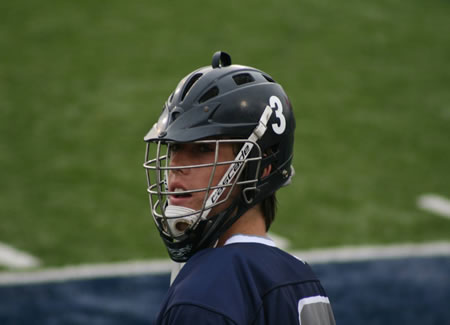 "I feel honored to receive this award and am looking forward to attending OWU next fall and playing lacrosse," Mr. Beach said. The Huntington senior plans to study business administration in college.
The Ohio Wesleyan campus consists of more than 200 acres adjoining downtown Delaware, Ohio. The school boasts 1,850 students and 137 full-time faculty members. Students come from 47 U.S. states and 50 countries.