Huntington School Briefs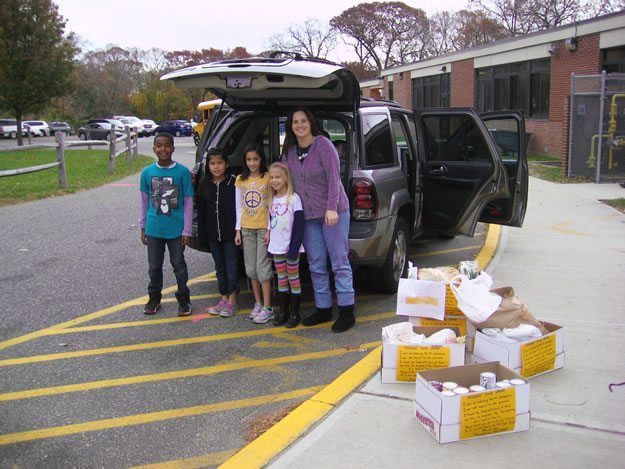 Flower Hill Primary School's annual Thanksgiving food drive was a huge success! The students, faculty and staff contributed turkey certificates, turkeys and tons of non-perishables. All of the items collected were donated to the Helping Hand Rescue Mission in Huntington Station.
The donated items will be assembled into Thanksgiving baskets by HHRM staff and distributed to families in need in throughout the community. "Everyone's generosity and support of this project will help make the Thanksgiving holiday nicer for many families," Flower Hill Principal Marlon Small said.
Floor Hockey Recap
The J. Taylor Finley Middle School faculty and staff floor hockey team continues to savor its recent 4-3 victory over the Huntington High School squad. It was the fourth time the two schools have tangled, but this year's victory marked the first time Finley emerged with a win.
Fans donated canned foods earmarked for the Helping Hand Rescue Mission and new toys for the Family Service League's holiday toy giving program. The crowd included many Finley and high school students. Proceeds from the game were split between the two schools' PTAs.
Suffolk Math Tournament
The Museum of Mathematics in New York City has announced information related to the 2012 Suffolk County Middle School Math Tournament for seventh and eighth grade students. The tournament will be held at Brookhaven National Laboratory on Friday, March 2, 2012 from 8:30 a.m. – 2 p.m.
Registration opens on December 5 at 9 a.m. sharp. A fee of $50 per team will be charged. Complete registration details can be found at suffolk.momath.org. For more information, please email tournament@momath.org.
A Public Deliberation
The Huntington High School social studies department will hold a "public deliberation" on Thursday, December 1 from 7-9 p.m. in the School Heritage Museum/Room 140. The topic of discussion will be: U.S. Economy in Crisis: Causes & Solutions.
Teachers Bill Byrne, Jordan Gould, James Graber and Joseph Leavy will serve as lead panelists of four discussion groups. Community service/experience credit will be awarded to participants.
All-County Music Festival
A near capacity crowd packed the Huntington High School auditorium last Friday evening for the 55th Annual Senior High School All-County Music Festival, presented by the Suffolk chapter of the New York State Council of Administrators of Music Education and the Suffolk County Music Educators' Assn.
The evening included performances by the All-County Festival orchestra, women's chorus, band and mixed chorus. "The performances were exceptional by any standard," said Huntington Superintendent James W. Polansky, who spoke briefly to the crowd of more than 1,600. "It was a real treat to sit back and enjoy several hours of beautiful music."
Representing Huntington High School at the All-County Festival were Jeffrey Sun (violin1), Andrew Ku (cello), Matthew Beeby (trombone 2), Collin Richardson (trombone 1), Jesse Reigot (French horn 1), Michael Marchetta (double bass), Francesca Gray (clarinet), Kevin Solomowitz (bassoon 2), Brianne Bennett (soprano 2), Robert Folan (tenor 1), Alexa Kaplan (alto 2), Anna Schiffmacher (soprano 2) and Joshua Stickell (tenor 2).
Science Honor Society Plant Sale
The Huntington High School chapter of the Science National Honor Society is holding a holiday plant sale to fund student scholarships. An extensive variety of poinsettias, balsam wreaths and holiday decorations (sprays, candy canes, kissing balls, roping garland, etc) are available for purchase. A flyer detailing the items for sale has been posted on the Huntington School District website at www.hufsd.edu.
Contact faculty advisors Lori Kenny (lkenny@hufsd.edu) or Dame Forbes (dforbes@hufsd.edu) for more information about the plant sale.
Washington PTA Night at Book Revue
The Washington Primary School PTA hosted a special afternoon and evening at Book Revue in Huntington last Friday. A large crowd of students, parents and teachers turned out over the span of several hours. Book discounts were given to participants and the PTA received a portion of the proceeds to support its important programs.
Washington music teacher Mitch Malle directed a group of outstanding fourth grade musicians who performed for dozens of parents and fellow students. The youngsters relished an opportunity to display their talents and several performed solos.
Washington PTA co-Presidents Shari Harris and Terry Moreno were beaming throughout the event, along with PTA officers and happy parents. Teachers volunteered their time to read to students in the children's section of the bookstore.