Holly Flores Nails it at Siemens Regional Finals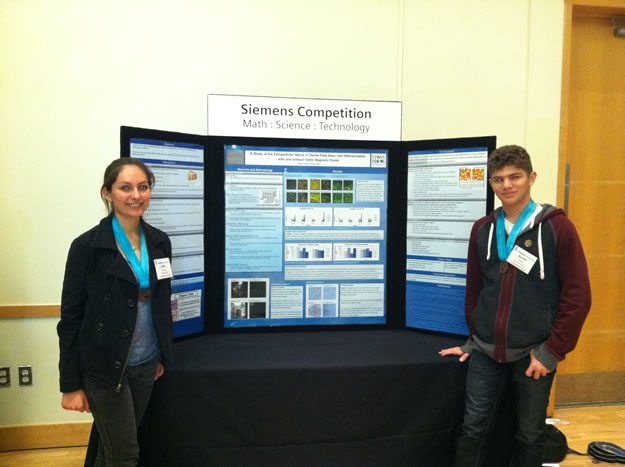 When it comes to elite science competitions, it isn't always about "winning" or "losing." The real reward comes in small increments along the way. It has to do with the opportunity to conduct high level research under the watchful eyes of top minds and present a set of findings to esteemed panelists. It's all about the challenge.
Huntington High School senior Holly Flores spent last weekend on the campus of Carnegie Mellon University in Pittsburgh competing in the regional finals of the Siemens Foundation Competition in Math, Science & Technology. The gifted teenager was accompanied by Huntington science teacher Lori Kenny, who heads the high school science research program.
Ms. Flores and her research partner, Austin Wild of South Side High School in Rockville Centre were among an exceptional group of 96 regional finalists spread across the country. An unprecedented 2,436 students registered for the competition and record 2,541 submitted projects.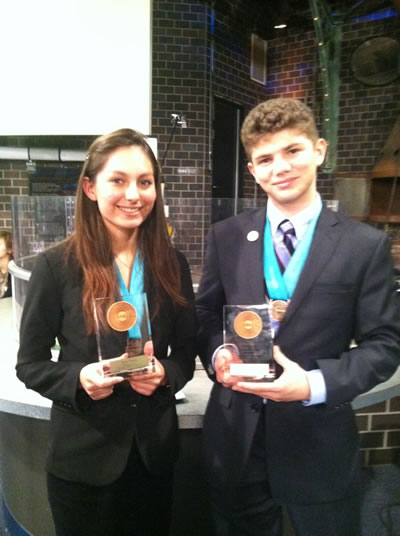 While the pair did not win first place honors or qualify for the national finals next month at George Washington University, they turned in a very impressive performance and garnered the respect and admiration of a distinguished set of judges. Mrs. Kenny called the trip to the regional finals an "opportunity of a lifetime."
The research duo's project, "A Study of the Extracellular Matrix in Dental Pulp Stem Cell Differentiation with and without Static Magnetic Fields," was conducted at Garcia MRSEC Engineering at Polymer Interfaces under the guidance of two Stony Brook University mentor-scientists.
The project involves the engineering of bone by differentiating dental pulp stem cells. "The focus of the project was to manipulate the external environment where the cells were growing and to then characterize the extracellular matrix (ECM), which is basically everything in a tissue that is not a cell," Ms. Flores said. "It is produced by the cells. The ECM is instrumental in regulating cell growth and functions through cell-matrix interactions, cytoskeletal organization, and integrin-mediated signaling."
Weekend is a Blur
The time at Carnegie Mellon was a blur for the competitors and Mrs. Kenny. After arriving, they were prepped on media relations skills and then given a 12 minute bloc of time for stage practice. The segment allowed for the one and only stage rehearsal of the research tandem's exactly 12 minute presentation, which utilized a PowerPoint format.
"Thereafter we spent hours revising and rehearsing during lunch and setting up posters, which seems like a simple non-stressful task, but it was quite the opposite," Mrs. Kenny said. Ms. Flores and Mr. Wild made sure every item on the poster board was perfectly aligned. "Their passion for success cannot be matched. Their alignment could not be compromised even to the tiniest of details that you and I would never notice as judges."
The public had an opportunity to view the project posters Friday evening and the students met with the judges, along with some of Carnegie Mellon's most prestigious professors. College students, media and even local residents were also in attendance.
A dinner reception followed and then more rehearsals. Mrs. Kenny was worn out by 9:30 p.m. and headed off to sleep, but not before telling Ms. Flores and Mr. Wild that if the duo needed her help, all they had to do was call.
"No sooner did I get to my room, sit down and feel my blood pressure slightly ease, when the phone rang," Mrs. Kenny said. "Sure enough, Holly and Austin wanted me to come to help. You might think such a task is hard when one is so exhausted, but honestly I wasn't going to sleep knowing they were practicing and could potentially use my assistance. We practiced most of the night until I reiterated the need for sleep."
Rehearsing at Daybreak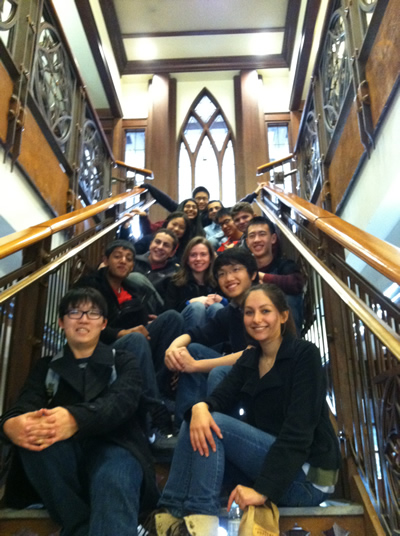 Daybreak Saturday brought more rehearsals before the group headed off to the competition at 7:15 a.m. "It's usually hard to motivate kids this age to even wake up," laughed Mrs. Kenny. "Now imagine by this time they are in business attire and doing a full rehearsal many biology post-doctorates can't pull off."
By 7:50 a.m. the first team was presenting and Ms. Flores and Mr. Wild were on-deck and filled with anticipation. "During the transition between the first team and ours, I was able to help ease the nerves of our team by giving them key focus points to help them remain relaxed," Mrs. Kenny said.
"I sat front and center to focus them and keep their passion focused and they were completely remarkable," Mrs. Kenny said. "Every practice point was nailed, with even the minutest detail done to perfection. It reminded me of watching a gymnast flip across a beam and even if faced with the tinniest bobble, the recovery was so professional the slightest error was unnoticed."
Following its presentation, the team was sequestered for 14 minutes of private questions and answers. "My heart, as well as those of Holly and Austin's parents, was racing," Mrs. Kenny said. "I waited alone outside the doors of what seemed like an interrogation room. Out came Holly and Austin high fiving and hugging as they ran down the hall where we all hugged. It was at this point they had won in my eyes. They were amazing, had done their ultimate best, were supportive of competing teams, and had challenged one another. Each time I revised and enhanced their goals they reached them."
Ms. Flores and Mr. Wild were each awarded $1,000 stipends for advancing to the regional finals and were also presented with a variety of other complimentary prizes. Earlier this year, a Stony Brook scientist reviewed Ms. Flores' paper and took an interest in her project, extending an opportunity for her and Mr. Wild to further their research under the scientist's personal guidance. The pair plans to start on the project soon.
Science Club President
Ms. Flores, who is president of Huntington High School's science club, is currently conducting research at Cold Spring Harbor Lab. Her project there centers on characterizing the effect of a gene called Scribble in cancer seminoma cells.
Ms. Flores has been eyeing several top tier schools, including the Sophie Davis School of Biomedical Engineering at City College, Macaulay School of Honors, Princeton University, Columbia University, University of North Carolina and the University of Southern California. "I want to major in either biomedical engineering and focus on cell biology," the teenager said. "It's my goal to attain an MD/PhD."
"Every time I think of the accomplishment by Holly and Austin tears well up in my eyes," Mrs. Kenny said. "It's not so often greatness like this occurs, but I feel blessed to have been part of it. I am proud to be a member of a district that is part of a national movement to enhance math and science."