Wright Inks NCAA D-I Letter of Intent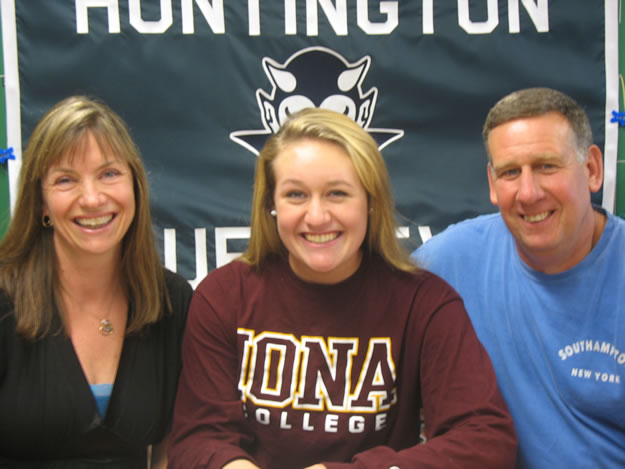 It's official. Colleen Wright is headed to Iona College on a lacrosse scholarship. The Huntington High School senior inked a NCAA Division I letter of intent to attend the New Rochelle school. She plans to study education and art there.
The teenager verbally committed to Iona last March and formally signed on Tuesday. The Gaels recruited Wright to play defense. "She is very happy and excited," said Kathy Wright, Colleen's mother. "She is ready to become a fighting Gael!"
"I was looking at colleges and going to many recruiting tournaments, but when I walked on to the campus of Iona College, I envisioned myself there," Wright said. "I met the team, spoke with Coach [Michelle] Mason and said to myself, 'This is where I belong.' Here at this school, I will do my best to make a difference."
Wright, who has played on the Huntington varsity lax team under head coach Nancy Wilson, has fought a very public battle against diabetes and garnered the continuous support of her family, teammates and coaches, who have all participated in events to raise awareness and funds for research into the disease. The senior was diagnosed with diabetes on November 15, 1999 so signing the letter of intent on that same date 12 years later carried great personal meaning for the entire Wright family.
"She was five years old and on that very day she received her first shot of insulin in her stomach," Kathy Wright recalled. "Now all these years later to the day, she has signed an athletic scholarship to a Division I college. She has overcome so many challenges that this disease has thrown at her and has come out on top. She has a bright future ahead of her."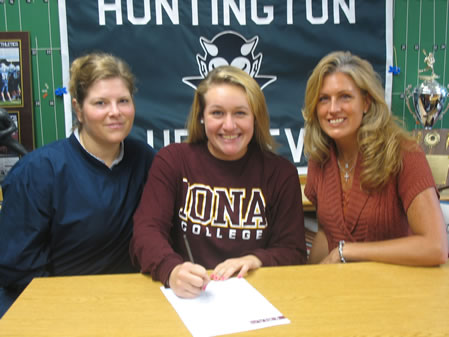 Wright has starred on Huntington's field hockey, basketball and lacrosse teams. "I knew when I verbally committed to Iona that I had found a home for the next four years of my college career," she said. "I am excited for the college chapter of my life to begin!"
The teenager has played elite travel team lacrosse for the past six years. "Colleen has given up every summer to get to this level of play," Kathy Wright said. "Colleen was determined to overcome her diabetes and achieve an athletic scholarship to a Division I university."
While Wright is excited to move on to the next level of play, she will "never forget my friends and teammates here at Huntington," she said. Lacrosse was her choice for college athletics, but she had a definite love for both field hockey and basketball.
"Her bonds with her coaches and teammates will forever stay in her heart," Kathy Wright said. "Although Colleen has played on an elite lacrosse team and has made many friends, her strongest bonds are with her Huntington teammates."
The Iona woman's lacrosse program has established a pipeline of sorts with Huntington High School. Blue Devil alum Jill Beck was a key player for the Gaels before graduating in 2009. Casey Scully is an Iona senior this year and is one of the team's top starters.
"As her parents, Bill and I never imagined 15 years ago she would get to this level," said Kathy Wright about her and her husband. "She has made us proud every step of the way. We watched her battle this disease on and off the field. She has never given up her dream to play in college. Every milestone she makes, every accolade that she achieves is because of her inner determination to get to the top despite the odds. Colleen is a player that will leave it all on the field for her team. She lives life the same way."
Wright has derived strength from knowing she has the support of her brothers, Patrick, a senior at SUNY Plattsburgh and William, a Finley Middle School eighth grader and sister, Holly, a Jefferson School fourth grader. "As a family, we have stood by her through all of her triumphs," Kathy Wright said. "Colleen has also felt the support of her Huntington family."
The senior is hoping to put together strong basketball and lacrosse seasons with the Blue Devils before shipping out to New Rochelle and sliding into life as a college athlete.