Nick D'Esposito is Upbeat at Bucknell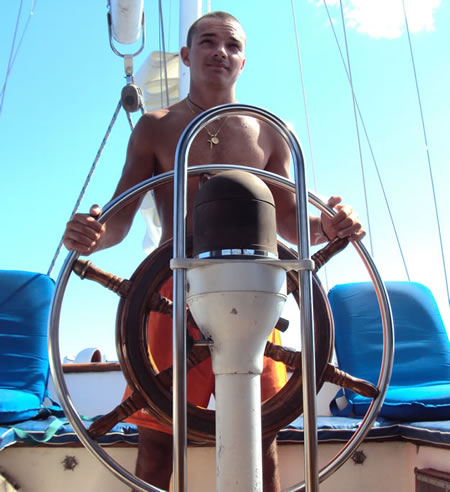 Nick D'Esposito is never at a loss for things to do at Bucknell University. The Huntington High School Class of 2009 member is a college junior and he's been keeping busy with challenging academic classes, a campus job and interesting personal pursuits.
"Things are going well here in central PA," Mr. D'Esposito said during a recent interview. "It's starting to get cold, and that definitely gets me down, but other than that I'm great."
The Huntington alum has been a resident adviser in the freshmen halls for the past two years. He's found it to be a rewarding experience. "I've learned a lot from it and have a lot of fun," Mr. D'Esposito said. "Everyone is weird and different and I get to see that first-hand, living on a hall with 28 other kids for whom I'm responsible. It's my goal to get my residents to be comfortable with being themselves."
Academically, Mr. D'Esposito carries a major in mechanical engineering and a minor in applied mathematics. "I've also worked on and off in the machine shop here on campus as a welder and machinist," he said. "I'm strongly considering attending grad school after my four years here, maybe seeking a degree in naval architecture."
While some of his classes are among the most difficult on campus, the Huntington alum is pleased with his choice. "I'm sure that I went the right direction in my undergraduate studies as a mechanical engineer," Mr. D'Esposito said. "I find most of my classes very cool and interesting. However, there are a lot of potential paths to take as a mechanical engineer and the specific direction that I go remains up in the air." 
While anything is still possible, Mr. D'Esposito has been giving his future some thought. "The field of energy is tremendous and growing and is where many mechanical engineers end up," he said. "I think I'd be happy in the energy field, as I definitely find my thermo/ fluids courses interesting. I could also see myself in the automotive industry, or, as I mentioned, in naval architecture." 
At Huntington High School, Mr. D'Esposito earned the designation of Advanced Placement Scholar with Honor and was a member of the Nathan Hale chapter of the National Honor Society as well as the foreign language and math honor societies. He was a key member of the Blue Devil soccer team.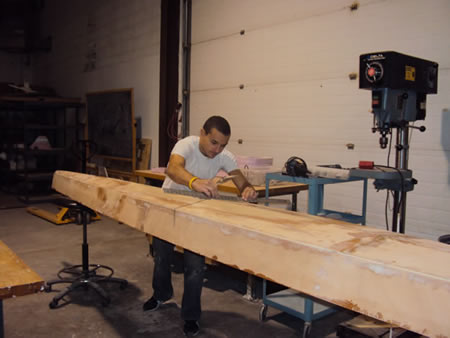 Mr. D'Esposito has a humorous side, too. For example, he mentioned that he's considering retiring immediately after college and heading to the Caribbean, urging the interviewer not to tell his mother or father. "In all seriousness, I'd like to travel at some point," he said seriously. "It is, unfortunately, very difficult for engineering students to study abroad and I won't be doing so."
This is one college student that isn't afraid to break the usual mold. "As a junior, I should really be trying to secure an internship position for this summer," Mr. D'Esposito said. "However, there are few things that I enjoy more than the summertime. It's going to be very difficult for me to give any of that up, so I may conveniently forget to submit any applications."
Mr. D'Esposito is currently in the middle of constructing his second boat, a 22-foot rowing shell "which will be perfect for use here at school," he said. "Bucknell is right on the Susquehanna River."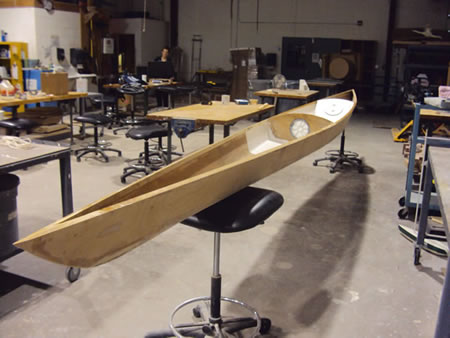 The Huntington grad and a few of his friends are starting a woodworking club at Bucknell. "Hopefully by next semester, it will be a university approved and funded organization," Mr. D'Esposito said.
Last semester Mr. D'Esposito worked on an independent research project with a student engineering team to design and construct a bicycle-powered cart. "The cart was to be used in Gulu, Uganda to transport cargo and children in the developing community," he said. "This was part of a larger project, 'Bicycles Against Poverty,' which started here at Bucknell."
As his junior year moves forward, Mr. D'Esposito has no intention of slowing down or pulling back his involvement in the pursuits near and dear to his heart. He's enjoying his time at Bucknell