Author Visit Captivates Finley Audience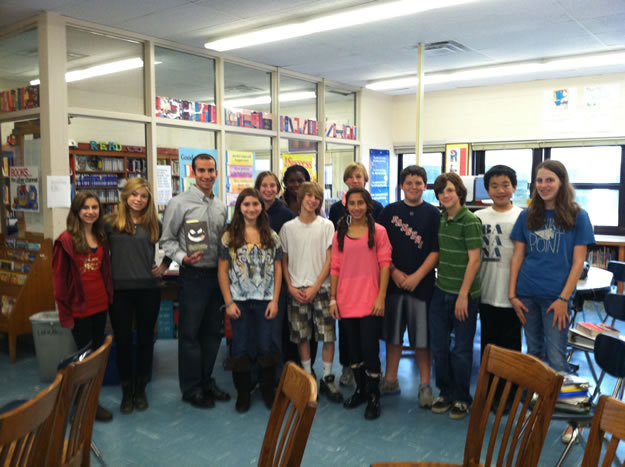 You never know what's going to happen when you walk into J. Taylor Finley Middle School teacher Kimberly Schiller's English class. She likes to keep learning fresh and exciting for her students so she mixes up the activities and delivers lessons with an impressive amount of enthusiasm.
Last Friday was one of those "out of the box" days for Finley students. Matt Blackstone, a Bronx English teacher visited the school to read from and discuss his debut novel, A Scary Scene in a Scary Movie. The book is about an eighth-grade boy by the name of Rene who is on the verge of entering high school, although he's not quite ready for it.
"He has OCD and a lot of anxiety about his life in general, his mom, his ex-dad, his friends or lack thereof, his school work, whether he just stepped on a crack in the sidewalk, etc," Ms. Schiller said about the book's central character. "His humor and realism throughout the novel really captured my students. The students really connect with Rene and everything that Mr. Blackstone describes in his book."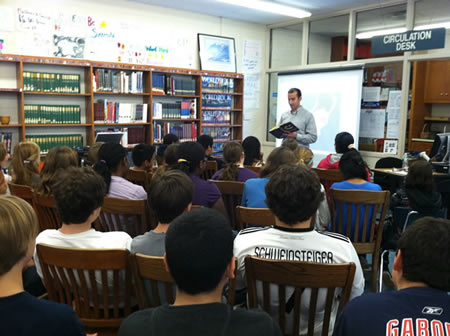 The author engaged his young audience throughout the presentation as he discussed how the students could become writers themselves. "He described his writing process, from scribbling ideas on a napkin or a ticket stub to sitting at the computer and just feeling writer's block," Ms. Schiller said. "He brainstormed with the kids about what important things every story should have and what a person can use as inspiration to write."
During the reading of excerpts from his book, Mr. Blackstone became animated, which helped keep the audience's attention and produced plenty of laughs. Near the end of the session, students participated in a question and answer period. The teenagers asked the author about where he draws his inspiration from and his decision to write about an eighth grader.
"One of my students, Sabrina Palacios asked if he knew anyone with OCD and did that help inspire him to write the novel," Ms. Schiller said. Another student, Gage Lembeck asked if Mr. Blackstone felt he was more like Rene or Gio, Rene's cool best friend in the book.
"
Mr. Blackstone really captured and held our attention with his clever, funny use of words and connections to real life," student Julia Macedonio said.
Mr. Blackstone is visiting the Huntington Public Library and Book Revue this week. He hit a homerun during his stop at Finley. "He did a great job," Ms. Schiller said.
"The presentation was informative for readers and aspiring writers," Ms. Palacios said. "I enjoyed it very much."