Huntington Alum Wins Medical Jeopardy Contest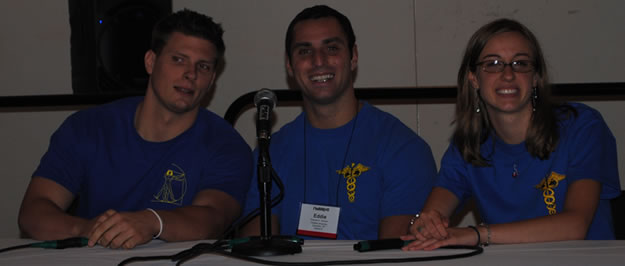 Jeopardy is a fun game, especially if you are watching from home and aren't the one under pressure to come up with the correct question. Jason Wieland is one smart guy and that's a good thing since he was on the spot in the statewide Medical Jeopardy contest.
A member of Huntington High School's Class of 2005, Mr. Wieland knows his "stuff" when it comes to obscure facets of medicine. He earned an undergraduate degree at Binghamton University in 2009 and is nearing completion of Hofstra University's physician studies program.
The Huntington grad and fellow PA program students Edward Wansor and Jaclyn McQuade comprised Hofstra's championship Medical Jeopardy team. The competition was sponsored by the New York State Society of Physician Assistants.
The Hofstra trio topped physician assistant programs from nine other colleges and universities in the state, including St. John's University, Pace University, Stony Brook University, Albany Medical College, Weill Cornell Medical School, New York Institute of Technology and SUNY Upstate Medical University.
Mr. Wieland and his Hofstra teammates successfully came up with the winning question, which involved a case study of a 60-year old man displaying symptoms that included malaise, chest pain and fever, two weeks after he had suffered a heart attack. "He is suffering from . . ." "What is Dressler's Syndrome?" Congratulations quickly followed.
"Hofstra never competed [in the contest] until last year, so we are especially proud," said Theresa Horvath, director of the physician assistant studies program.
An All-County baseball player during his years at Huntington High School, Mr. Wieland batted .538 in his senior year, the third best average in Suffolk in 2005.
Mr. Wieland is in the top of his PA class at Hofstra. He has finished the course requirements of the physician assistant program and is now out on rounds, bringing his book knowledge into the real world. He is required to do rounds in surgery and in the emergency room, etc. PA students typically spend six weeks in each discipline and then move on to the next.
Following his graduation in December 2012, Mr. Wieland will still need to pass certification and licensing exams in order to practice as a PA.
Mr. Wieland and his teammates will represent New York in the national Medical Jeopardy competition set for May 2012 in Toronto.