Chamber Choir Sings at Walt Whitman Mall Tonight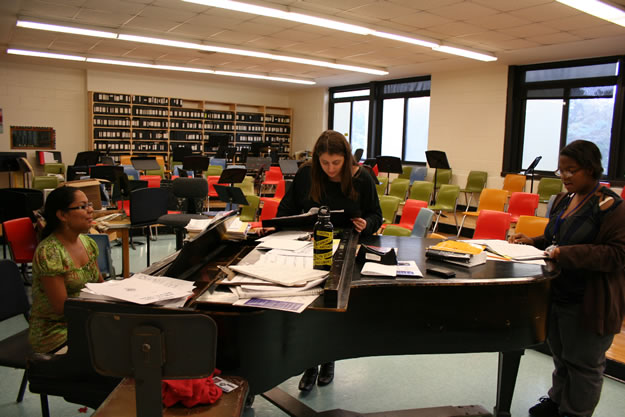 The Huntington High School chamber choir will help open the holiday shopping season at the Walt Whitman Mall tonight at 5:30 p.m. when it sings in front of the mall entrance near the Lord & Taylor store.
"We will be singing an original song co-written by the conductor of the Young People's Chorus of New York City, Francisco Nunez and Jim Papoulis, a prominent choral composer," said Veronica S. Mainville, a Huntington music teacher and the school's director of choral activities.
The Huntington students' rendition of the featured song, What is Christmas Made of, is sure to impress the crowd. "We will also be singing some other holiday favorites, including Carol of the Bells, Dreidel, Dreidel and one or two more carols that we are still finalizing," Mrs. Mainville said last Friday.
The chamber choir's members include Rebecca Alligood, Nicholas Arleo, Brianne Bennett, Kristin Berner, Brielle Blatt, Zachary Burden, Christian Caronia, Kristina Casale, Jonathan Ceide, Alexandra Colby, Jacqueline Contino, Evert Coto, Kyle Dorward, Robert Folan, Alexa Gorczycki, Judy Greco, Chelsea Holmes, Alexa Kaplan, Christen King, Taivon LaPalmer, Salvatore Martello, Mallory Martilla, Emily Mormile, Jaime Moskowitz, Darius Nash, Ryan Newell, Monica Owen, Hannah Rice, Elizabeth Roman, Benjamin Rosen-Packard, Anna Schiffmacher, Stephanie Shea, Kevin Solomowitz, Marc Solomowitz, Joshua Stickell, Alex Ulloa and Raynisha Witherspoon.