Friday Night Dinners a Blue Devil Tradition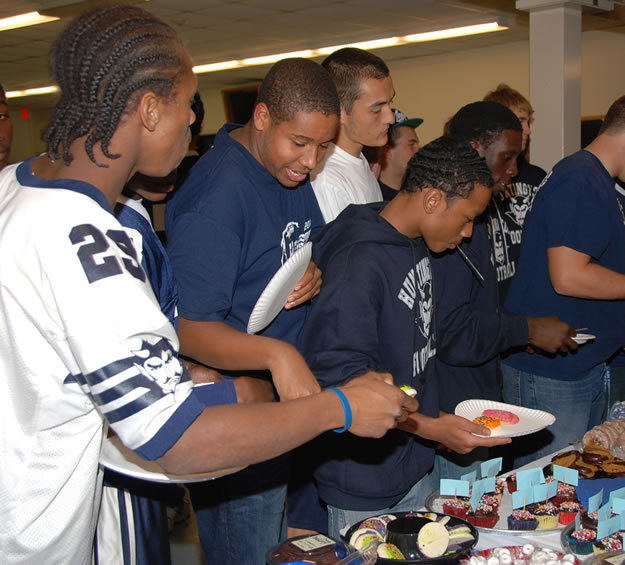 The night before every game, the Huntington High School varsity football team gathers in the school cafeteria for dinner. It's a tradition that dates back as long as anyone can remember. The evening before homecoming day, varsity players are joined by their JV counterparts, sharing a meal prepared by parents with each other and the Blue Devil coaching staff.
"Our dinners have become a proud tradition around here," assistant coach Ron Wilson said. "When [head coach] Steve Muller took over, he got together with a few parents and discussed with them what he wanted to do. It started with him and a parent just buying pizza for the athletes on Friday night and viewing the film of the opponent's last contest. Now the dinners have gravitated to more of what we preach about concerning the program being a family unit.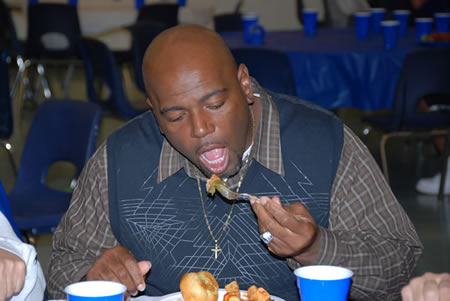 Parents spread tablecloths around the cafeteria and provide a complete dinner from A to Z. There is even a dessert table. Parents serve the food as players make their way down a long line of tables crammed with tasty dishes.
"We preach brotherhood all the time, so why not dine together like a family should?" Wilson asked. "What's so great about it is that we still have families whose children are no longer in the program, but who still help in preparing meals for us coaches and athletes. Now that's family!" 
The players are exceedingly well-behaved at the dinners, although they do get a little eager around the food tables, especially the desserts. "Our current parents do an awesome job every week making sure our boys get properly fed," Wilson said. 
Food dishes run the gamut from London broil, pasta, chicken, Swedish meatballs and salads to such items as sausage and peppers and casseroles. "Our athletes really do enjoy what the parents dish out every week," Wilson said. 
About a decade ago, junior varsity players were invited to the team dinner the night prior to homecoming day. "This has been a huge success," Wilson said. "It gives JV athletes and their parents a taste of what is to come and how we operate. Each year there is always a parent who steps up and organizes the dinners." This year's dinner coordinator was Christina Plant.
The cafeteria is left in remarkably good condition after the dinners, but the coaching staff still expressed gratitude to the district's buildings and grounds staff members. "We are very grateful to our custodians who do a nice job cleaning the cafeteria before and after we use it," Wilson said.