A Happy College Freshman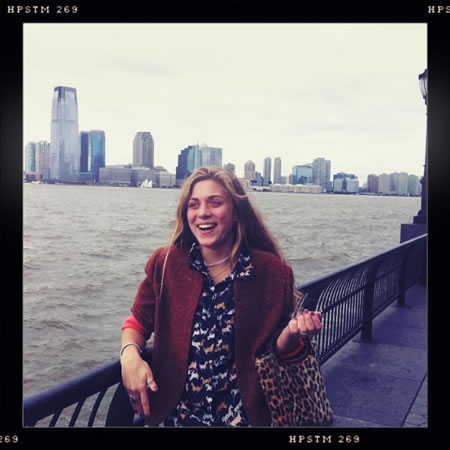 Sarah Casey doesn't let much get her down. She's a happy-go-lucky kind of teenager, even today on the bustling urban campus of Pace University where she's busier than ever. All things considered, the Huntington High School Class of 2011 member feels she's in a good place.
"New York City is so much fun," Ms. Casey said this week. "I'm so happy I decided to come to Pace because I'm constantly on the move, doing new things and meeting so many amazing people. The last two months have gone by so fast and sometimes I forget just how lucky I am to have the opportunity to go to school in such a great city."
The change in surroundings has been dramatic for Ms. Casey, who went from attending school in bucolic Huntington to life in one of the biggest cities in the world.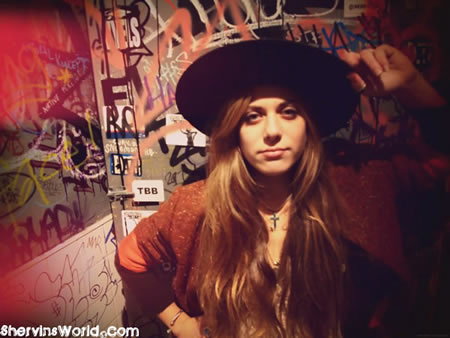 "At first, I would get so lost every day trying to figure out the subway lines, but now I think I have them figured out," Ms. Casey said. "It takes a lot of practice and a lot of money! That's the only bad part about the city. It is very expensive and I'm surrounded by so much to buy."
Ms. Casey is interested in obtaining a part-time job but has so far been prevented from doing so because of the workload at Pace, which is "pretty demanding" she said. The teenager is a business major, but she's also enrolled in philosophy and art classes, "which I love," the Huntington alum added.
"Later this November, I'm auditioning at Pace for the acting program," Ms. Casey said. "I'm trying to do everything! Pace is a great school, not just because it's in New York City. It also provides a lot of interesting events and activities."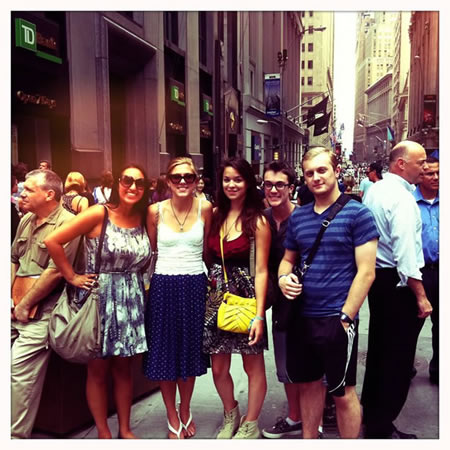 Ms. Casey has been interning at fashion blog Shervin's World. "It's a street fashion blog that focuses on the evolution of culture in New York, LA and Paris," she said. "It's also an online diary for Shervin Nassi and Charlotte Cutler. They DJ, host parties and shoot films\music videos. I'm excited to see how the next few months unfold as I learn a lot and explore around Manhattan!"
The Huntington grad considered Clemson, Georgia, SUNY College at Purchase, Penn State and Ohio State before choosing to attend Pace. She has dived head first into college life.
"I volunteered with my dorm floor in the Bronx where we painted the roof of an apartment building white to help lower energy emissions," Ms. Casey said. "I'm on the Green Adventures floor, (each floor has its own theme and works on events related to the theme) so we go kayaking, horseback riding, volunteering, hiking, Green related lectures and we recycle a lot!"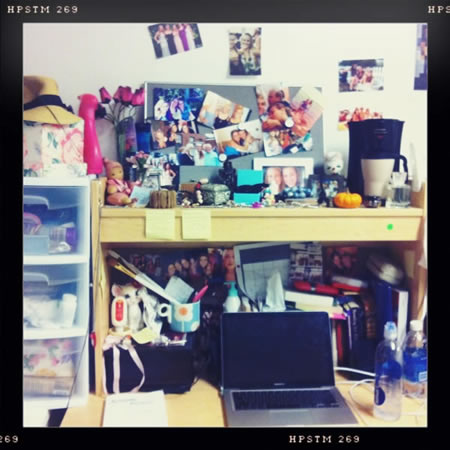 During her years at Huntington High School, Ms. Casey anchored the school's newscast, was a member of the video club and the field hockey and lacrosse teams and was involved in such activities as PlayFest and Battle of the Classes. During spring break in her senior year, the teenager participated in a weeklong Global Leadership Adventures cultural and educational excursion to the Dominican Republic.
Obviously not one to stay seated very long, Ms. Casey needs varied activities to feel alive. "There are so many cool things to get involved with here," she said about Pace and New York City. She plans on taking a 16mm film production class during which she hopes to get involved in the occupation and protest activities on Wall Street. She also intends to participate in a study abroad course in May, traveling to Russia for 10 days.
"New York City has been an amazing campus so far with so much to offer," Ms. Casey said. "I'm having so much fun and if anyone from the high school wants to visit Pace, I'd be more than happy to show them around the school and the city."