Washington's Top Students in
October Honored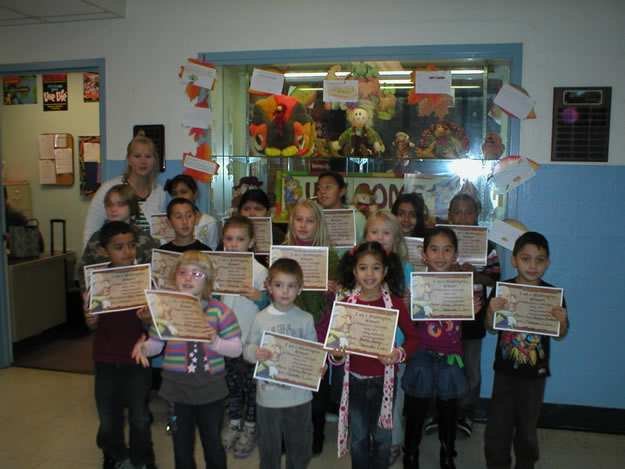 As the school year chugs right along, Washington Primary School students are working hard. There are so many youngsters doing the "right thing" in class and around the building that it's a real honor to be singled out for a coveted monthly award.
The Washington Ways initiative focuses on recognizing and rewarding positive behavior while encouraging students to be safe, respectful and responsible. Youngsters are given various colored tickets by teachers and support staff members for exemplary behavior. The tickets can be presented to students throughout the day.
White tickets are awarded weekly for good behaviors and actions in the classroom. White ticket winners are honored with special recognition in their classroom at the end of each week and their names are announced every Monday morning.
Red tickets are presented to individuals for notable good behavior outside of classrooms, including in hallways, buses, the playground and cafeteria, etc. At the end of the month, the student in each class with the greatest number of red tickets is recognized with a special certificate. Principal Marsha Neville announces the names of the honorees over Washington's public address system.
Entire classes can earn blue tickets for positive group behavior out-of-the-classroom. Blue tickets are also awarded to the two classes within the building with the most tickets overall.
October's "Red Ticket" honorees included Luis Linares-Avelar, Andrea Mani-Munoz, William Berry, Gradon Sosnowski, Stella Giorda, Fiona Brosnan, Yoanny Suarez, Haileigh Smith, April Swanson, Jensy Torres, Kevin Meza-Aparicio,Jaiden Sanders, Lizbeth Almendarez, Michael Gerardi, Chase Nunez, Gracie Renkewitz, Kelly Alfaro-Alvarez, Julianna Quinones-Franco, Brendan Roller and Kenia Gonzalez.
Washington's "Blue Ticket" classes for October included those of first grade teacher Susan Llanes and third grade teacher Wendy Bonilla.
"Washington's students get really excited when a teacher presents them with a red ticket," Mrs. Neville said. "Who doesn't enjoy getting a pat on the back for a job well done?"