Skating for a Huntington Hero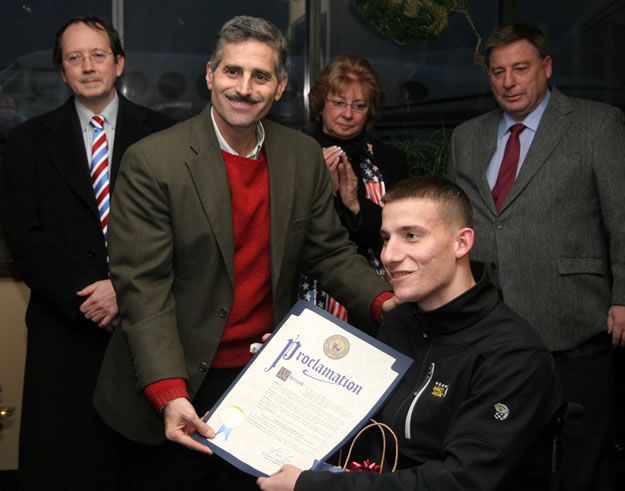 James Byler is a hero. The Huntington High School Class of 2003 member sustained serious injuries while serving as a First Lieutenant with the U.S. Marines in Afghanistan. Since then his alma mater and the greater community has rallied to his side, raising funds to defray costs associated with major renovations to the Byler family home.
The next fundraiser is planned for Veterans Day this Friday, November 11 from 12:30 to 2:30 p.m. at Superior Ice Rink on Indian Head Road in Kings Park. The proceeds from the "Skating for a Hero" event will benefit Building Homes for Heroes and Mr. Byler. Admission is $10, which includes skate rental and two hours of skating.
All skaters participating in the event will automatically be entered to win a VISA gift card in the amount of $50, $100 or $150. Students attending the event will qualify for three community service hours.
The renovations are designed to make Mr. Byler's home more accessible as he adapts to life without both legs and the pinky fingers on each hand. The Huntington grad was serving as an infantry platoon leader with the Third Battalion, 5th Marines out of Camp Pendleton, California, when he stepped on a buried improvised explosive device in a narrow alley in Northern Helmand Province, a particularly deadly section of Afghanistan.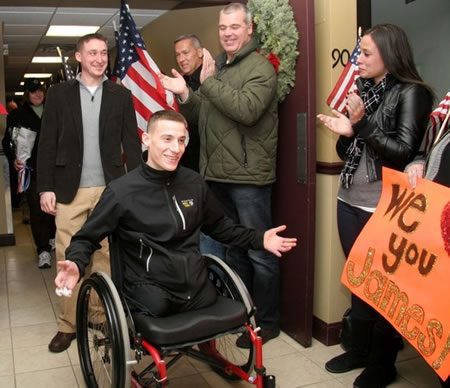 Mr. Byler's fellow U.S. Marines who were with him on the dismounted patrol that day responded to the explosion by carrying him away to safety and saving his life. He was given a hero's welcome home when his plane landed at Long Island MacArthur Airport last winter.
After receiving his high school diploma, Mr. Byler went on to earn an undergraduate degree at Purdue University in Indiana. Following his injury, the 25-year old was awarded the Purple Heart medal. He has appeared at many community events, from Memorial Day observances to events at Tri-Village – Greenlawn Memorial Park.
In the aftermath of his devastating injuries, Mr. Byler spent time recovering at the National Naval Medical Center at Bethesda, Maryland and undergoing physical and occupational therapy at Walter Reed Army Medical Center in Washington, DC.
For more information about Building Homes for Heroes log onto www.buildinghomesforheroes.org.