Community to Come Together for Hope Through Health
Jennifer Schechter Fiori is not the type of person that should ever be underestimated. Her Huntington High School teachers and classmates know this very well. Since graduating with the Class of 2000 she's earned an undergraduate degree, two master's degrees, served in the Peace Corps and as executive director of Hope Through Health, married and become a mother.
Those who knew her as a teenager and who are friends with her today can attest that Mrs. Schechter-Fiori is that same affable, sweet, impeccably dressed and exquisitely well-spoken person they have always known. She is indefatigable in her quest to make life better for the poorest of the poor.
After receiving an undergraduate degree at Georgetown University, Mrs. Schechter-Fiori completed a three year term with the Peace Corps and now serves as executive director of Hope Through Health, an international organization that offers technical and financial assistance to community-directed health initiatives in West Africa. In recent years she obtained master's degrees in social work and public health at the University of Washington.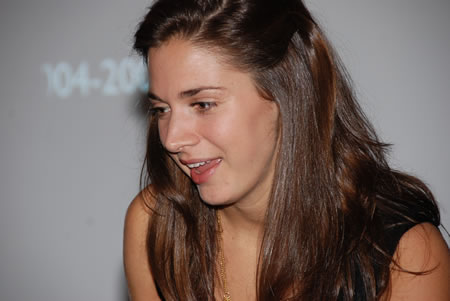 Huntington community members will come together at the Huntington Yacht Club for Hope Through Health's sixth annual fundraising cocktail party and silent auction on Saturday, November 19 from 7 to 9 pm. Tickets to the event are currently on sale and priced at $75 per person.
For more information on the event or to reserve tickets, contact Evie Schechter at 516-885-3203 or by e-mail at: eschechter@hthglobal.org. If the event doesn't sell out in advance, tickets will be available at the door.
The evening is expected to draw a crowd of more than 150, most of them local residents, business leaders and Huntington High School alumni. Local merchants, businesses and organizations have offered their generous support. Previous events have raised nearly $100,000, lifting hopes high for this year's benefit.
Mrs. Schechter-Fiori was born, raised and educated in Huntington and her parents continue to reside in the same family home today. During high school she was involved with the student government and HOPE (Huntington Outreach Peer Educators) club she played four years on both the Blue Devil soccer and lacrosse teams. She also served with the Huntington Youth Bureau as a peer educator and sat on that organization's advisory board.

At Huntington High School, Mrs. Schechter-Fiori said she received "tremendous encouragement from all my teachers, most notably, student government advisor Leslie Mitek and HOPE advisor Judith Jakhelln. I always felt fortunate to live in Huntington where there was a wealth of opportunities to get involved in important community service activities."
In June of her senior year in high school, Mrs. Schechter-Fiori was presented with the prestigious T. Christopher Pettit Memorial Scholarship, which helped make attending Georgetown University easier financially for her family.
Proceeds from the November 19 benefit will help provide lifesaving treatment to people living with HIV/AIDS in Togo, West Africa. Hope Through Health currently offers comprehensive medical, nutritional and psychosocial services to nearly 3,000 people in Togo living with HIV/AIDS. The organization also provides a program to prevent the transmission of HIV from mothers to infants. For more information on HTH and its activities, visit www.hthglobal.org.
Mrs. Schechter-Fiori became involved with Hope Through Health while serving as a Peace Corps volunteer in Togo. This is where she met her husband, fellow Peace Corps volunteer and Hope Through Health co-founder, Kevin Fiori. The two married in 2009 and welcomed their first child, Julien Fiori, in September of this year. Mr. Fiori is currently finishing medical school on the west coast.
Hope Through Health maintains extremely low overhead costs (98 cents of every dollar donated goes to serve the poor in Togo) to ensure maximum support for its programs in Togo and is funded largely by small individual donations. "Many of our supporters pledge $20 a month, which is enough to cover the costs of treating one patient in Togo for an entire year," Mrs. Schechter-Fiori said. "All it takes is the decision to get involved."
The Huntington Yacht Club is located at 95 East Shore Road in Huntington.