Huntington Drama Club Deserves
a Second Bow
These teenagers should take a second and even a third bow. The Huntington High School drama club took the stage last Friday and Saturday evening for well-received performances of Shakespeare's A Midsummer Night's Dream.
The actors rehearsed for nearly six weeks and were nothing short of splendid. The costumes, sets, music and singing were enchanting. The cast worked hard to deliver their lines in Shakespeare's English with perfect effect.
Huntington's drama club has been a tight-knit family under faculty advisor Michael Schwendemann, who is the glue that holds the group together. "We lost 27 very talented club members to graduation the past two years so we are in rebuilding mode," the talented director said. "We're fortunate to have so many new and returning actors with a real love for the stage."
This year's club includes just a handful of seniors after an incredible run of successful productions in recent years. "I have to admit that I was apprehensive going into Friday night's show, but it really came together nicely," Mr. Schwendemann said. "I am very happy. They are a hardworking group."
Hundreds of theater-goers turned out for the 7:30 p.m. performances and they appeared to enjoy themselves. The crowd included parents and other family members, alumni, current students and various dignitaries.
The play featured actors Josh Stickell, Jackie Contino, Matt Chadwick, Patrick Lombardi, Emily McGoldrick Monica Owen, Marc Widerman, Brendan Higgins, Bobby Marcus, Chelsea Holmes, Kat Gerdes, Julie Gray, Alex Reinertsen, Hannah Rice, Sarah Mosden, Stephanie Shea, Anna Wertheim, Zach Burden, Katelyn Postiglione, Liz Roman, Jaime Moskowitz, Mary Pulizzotto, Nicole Tavares and Julia Zinn.
Superintendent James W. Polansky was in Saturday night's audience. "It was a great show," he said. "The actors and stage crew members should be very proud of their efforts. They really pulled off a script that can be challenging at times."
The actors rehearsed for more than 200 hours in the run-up to last weekend. "There were a lot of ups and downs, including losing one of our key cast members to illness," Mr. Schwendemann said. "Everyone stepped up when it counted and really rose to the occasion."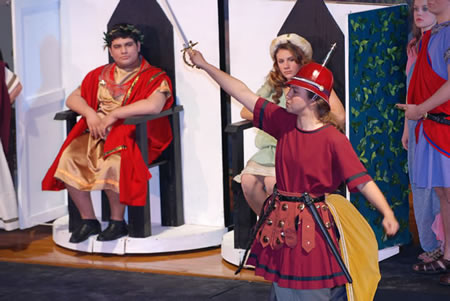 Shakespeare set the play in the forest outside of Athens. Huntington's creative stage crew under the direction of Ken Gilbert turned the auditorium stage into an attractive space for the actors to ply their craft. The backdrop and scenery produced an almost hypnotic effect throughout the performance.
While the actors were diligent in playing their roles, they looked like they were having an awful lot of fun in the process. That kept them loose enough to avoid any on stage mishaps. If there were any slip-ups, no one in the audience noticed it.
The play's student directors were Laura Ironman and Emma Hughes. Ken Gilbert is serving as the technical director. Alumni parent Dana Freed handled set dressing and costumes and Melinda Sarabia headed the makeup unit. Anna Wertheim designed the logo and Ellen Fleury created the program.
"This play put on display the old adage that hard work really does pay off," Mr. Polansky said.