Safe Halloween Draws Crowd at HHS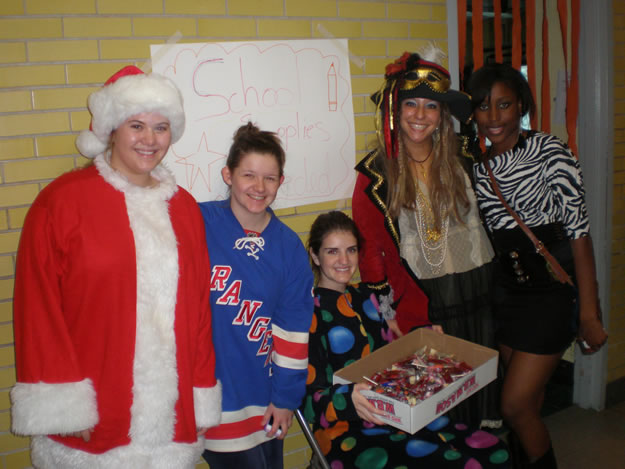 This year's Safe Halloween program for elementary school students drew a crowd at Huntington High School. It was a little surreal for some people to see youngsters in full costume walking down hallways and into classrooms and the cafeteria on their way to a variety of fun activities.
Safe Halloween offers much of the usual fun associated with the day but without the need for parents worry to worry about the safety of their child. Participants were entertained for two hours by high school students and faculty and staff members as the youngsters rotated through an assortment of activities, including a haunted house.
"It was so wonderful to see ballerinas, Dracula, scientists and every other popular character roaming the hallways and cafeteria of Huntington High School," Principal Carmela Leonardi said. "They were accompanied by older siblings and parents. As it is tradition, many of our staff members came back with their own little ones to participate in games and collect sweets."
Dozens of Huntington High School students volunteered to pitch-in, staying after school for hours and helping to insure the program ran smoothly and the youngsters had a good time.
"Most clubs were represented and staffed with a good number of members," Dr. Leonardi said. "Everyone had a blast. It is one of the community focused activities that we all look forward to every year."
The annual event is sponsored by the school's student government organization and the participating teenagers go out of their way to bring smiles to the faces of the youngsters. Student government faculty advisors Anthony Troffa and Fred Bisogno coordinated the event along with the organization's student officers.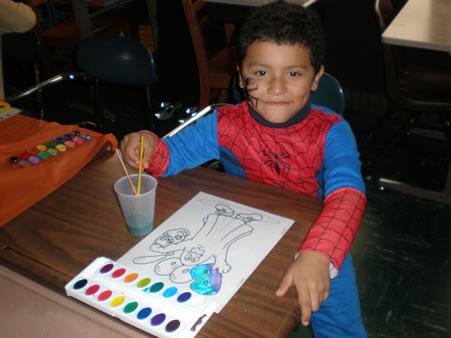 "It went very well," Mr. Troffa said. There were activity stations for Chinese ghosts, cookie decorating, bean bag toss, face painting, temporary tattoos, freeze dancing, watercolor painting, limbo rock, pin the tail on the donkey, Simon Sez, "connect the dots," guess how much?," touch and feel fake body parts, popcorn hands, tunnel and duck, duck ghost.
Not surprisingly, the National Honor Society's haunted house was among the most popular of all activities. Spearheaded by faculty advisor Joseph Cohen, NHS members really outdid themselves created a thrilling and chilling experience for the elementary students.
This year's turnout was a little smaller than in years past. "That most likely had to do with it being on the actual day of Halloween and competition from events in Huntington village," Mr. Troffa said. "But, it was still packed and the kids had a great time! Many teachers and advisors gave up their time to host rooms." 
Open to any Huntington School District student from pre-school age through sixth grade, Safe Halloween provides youngsters with an opportunity to come to the high school dressed in a costume and to participate in Halloween related fun activities and games. It has a long tradition at the school.
During the program, high school students serve as hosts for the younger children, who are restricted to certain areas of the building. Organizers say that cute costumes are the norm and teachers have commented on how refreshing it is to see the teenagers interacting and catering to the youngsters. Refreshments are served.
"We had a lot of activities and games this year," Mr. Troffa said. "Mr. [Joseph] Cohen's haunted house was very scary and amazing."
Either an adult or an older sibling must accompany their child. There is no admission fee, but the student government asks participants to bring one item of canned or boxed food to jump start the high school's Thanksgiving food drive.
It seemed as if the clock reached 6 p.m. in record time. As children departed the building with their parent, the youngsters wore big smiles of their faced. "It was an excellent time," Mr. Troffa said.