Principal, Students Honored at Hispanic Heritage Celebration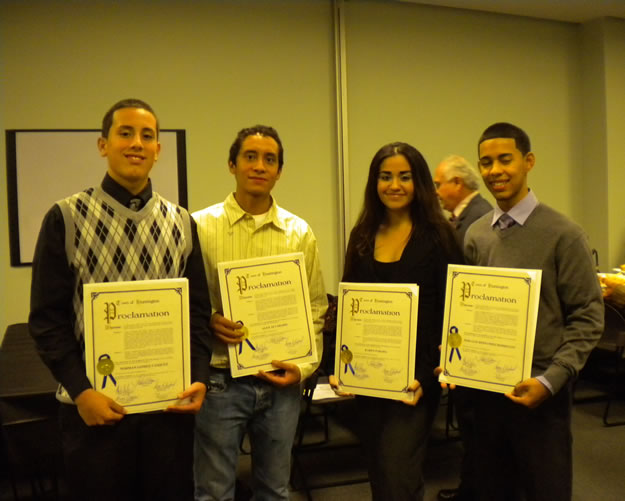 The Town of Huntington's annual Hispanic heritage celebration is a time to honor those who have distinguished themselves in the community, enjoy performances of song and dance and sample tasty ethnic foods.
This year's celebration drew a crowd of more than 200 to the Town Board's meeting room. Among the honorees was Huntington High School Principal Dr. Carmela Leonardi and seniors Karen Parada, Jose Luis Hernandez-Rodriguez, Norman Gomez-Vasquez and Alex Alvarado.
Dr. Leonardi was presented with a Community Service Award for the work she has done in support of the Latino/Hispanic community in Huntington. "This is the first time that they have selected a non-Hispanic recipient," Dr. Leonardi said. "I was happy to be in the company of four of our seniors who were honored for their achievements as well."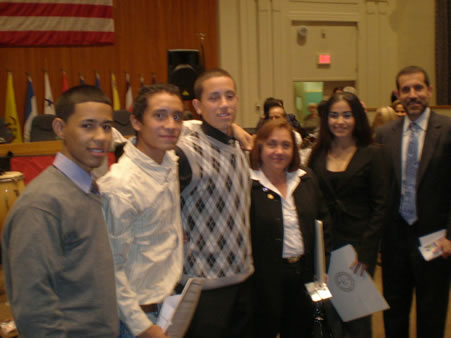 Huntington High School choir director Veronica Mainville led chamber choir members in a well-received performance. Musicians from Theo Torres Peruvian Folklore also wowed the crowd. The traditional extravagant feast followed at the conclusion of the formal program.
Each of the Huntington seniors was given a Student Achievement Award for distinguishing themselves over the past four years of high school. Ms. Parada, who was born in El Salvador, has pursued challenging academic studies including honors level and AP Spanish. She is an active member of the Spanish Honor Society, volunteers with the Huntington Community First Aid Squad, tutors classmates, runs on the track team and is a "pleasure to have in class," according to teachers.
Mr. Hernandez-Rodriquez was born in the Dominican Republic. He's a member of the science club, volunteers at St. Hugh's Church and helps explain topics to classmates. He has earned top grades since coming to the U.S. in November 2010.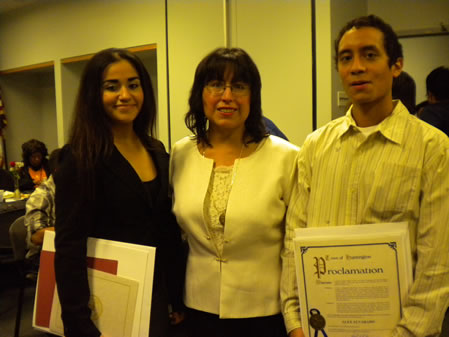 Mr. Gomez-Vasquez has stellar grades, too. He has been enrolled in honors and AP courses and is a member of the National Honor Society and the Spanish Honor Society. He volunteers at St. Hugh's Church and the Family Service League. A tough competitor, the senior enjoys playing soccer and basketball. He moved to Columbia when he was three years old and returned to the U.S. when he was seven. The teenager plans to pursue undergraduate and graduate study in accounting and finance.
Mr. Alvarado has also been enrolled in accelerated, honors and AP courses. He's a voracious reader and has earned strong grades in courses such as pre-calculus, AP US History and honors physics. He has been a member of the soccer and track and field teams. The senior's parents were born in El Salvador. He's been working part-time to save for one of his bi-annual trips to Costa Rica where he performs community service helping school children and working to save endangered sea turtles. He hopes to attend Columbia University and study psychology.
All four Huntington seniors are enrolled in teacher Mercedes Pena's AP Spanish class. "They are all bright, respectful and hard working students," she said.
Ms. Parada is interning with Ms. Pena in a Spanish concepts class. "She already shows all the positive attributes of a great teacher," the teacher said. "She's dedicated, sensitive and patient."
This marked the 17th annual program. Huntington Supervisor Frank P. Petrone was on hand along with members of the Town Council. Vivian Viloria-Fisher, deputy presiding officer of the Suffolk County Legislator delivered the event's keynote address. A native of the Dominican Republic, she came to the United States as a child and became a citizen when she was 18 years old.
The Town of Huntington and United Healthcare's Community Plan jointly sponsored the evening. Huntington School District faculty and staff members Eliana Organes, Gloria Jaramillo, Marta Negron-Smith and Carmen Kasper serve on the Town's Hispanic task force.